Tapas Tours in CORDOBA 
Andalucia is justifiably famous for its excellent gastronomic scene. Using first-class ingredients grown throughout the region and caught along its extensive coastline, such as jamon iberico, tomatoes and prawns, cutting-edge dishes are prepared and presented with typically Spanish flair and innovation, although the simple produce - cheese, olives, almonds - are delicious enough to provide superb simple snacks too. 
Why go on a tapas tour?
If you'd prefer to let friendly city experts take the lead, and accompany you to Cordoba's best spots, suggesting must-try tapas and the best regional wines, then a tapas tour is for you. Just sit back and enjoy the Andalucian tapeo like a local, without worrying about how to find out-of-the-way restaurants, understand the menu and order at the bar.
How does a tapas tour work?
Normally your tapas host (always an English speaker) will collect you from your hotel or apartment, or if you're staying outside the city centre, you will meet at a central, easy-to-find location. He or she will take you to between two and four bars, always located near each other  Tours are usually available either at lunchtime or in the evening.
Your tapas expert will order a selection of small dishes at each stop, explaining each tapa and its history and cultural importance, as well as suggesting wines to match - a local red wine to start, and perhaps Olla de San Anton (pork and lima bean stew) or papas a lo pobre. You may also meet chefs and restaurant owners, and get to see them preparing the day's dishes or produce. The bill for each bar will be included in the price of the tour, so you don't have to worry about paying; dietary specifics can be accommodated.
How long does a tapas tour last? Where do we go?
The tour will typically last between two and four hours, depending on how many bars you visit, with small groups of up to 10 people. Some tours also include visits to some of traditional food markets, where you can enjoy tastings, such as hand-carved jamon de Trevelez from the Alpujarras. Some companies offer tours of specific areas, as well as tours themed around tapas and craft beer, or tapas and flamenco. 
This is a most enjoyable way to spend an evening in atmospheric, with a chatty host who will offer an invaluable insider's insight into the city, its history and what's hot on today's menu, from small family-run places to more contemporary venues. Many tours offer a list of recommended restaurants to take away with you, and sometimes a glossy of Spanish food terms too.
Córdoba Tapas Tour
Córdoba Tapas Tour
A different way to visit a monumental and ancient city like Córdoba, getting to know one of the most important parts of southern Spain's culture - food - and its meaning in people's daily life. Enjoy a PRIVATE TOUR ! Gastronomy is a necessary part of life in each world culture, and we propose this activity to introduce you to the best tapas in Córdoba. We will start at the old Roman Bridge with a nice walk around the old city to talk about the history of Córdoba. Then, we will visit and have tapas at 3 different typical bars, all while learning what's behind each dish in a historical and cultural context.

Cordoba Tapas and Roof Terraces Tour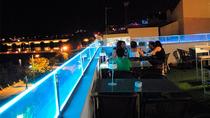 Cordoba Tapas and Roof Terraces Tour
Travel around the city for 2 hours, tasting the most traditional food and wine as well as relishing the views of Cordoba.

Cordoba Califal Tour Wine and Muslim Heritage Food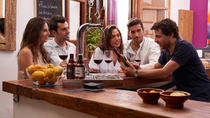 Cordoba Califal Tour Wine and Muslim Heritage Food
Join me and a history expert guide on an exciting adventure through Cordoba's magnificent Mezquita and Jewish Quarter, the second largest mosque in the world. After learning about the landmark's fascinating history and unique architectural elements, we'll stop at two of my favorite wine bars to try the best that Andalusia has to offer!

Cordoba Craft Beer Tasting and City Tour from a Local's Perspective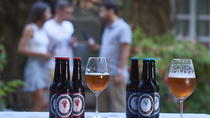 Cordoba Craft Beer Tasting and City Tour from a Local's Perspective
Join us on this fun-filled Cordoba sightseeing tour and artisanal beer tasting. We'll meet in the historical district, walking together through the cobblestoned streets of this beautiful city while we share with you some fascinating facts of history and local gossip. We'll stop at one of our favorite local breweries, Cervezas La Gitanilla, to taste Cordoban craft beer with typical Cordoban snacks.

Cordoba Evening Traditional Tapas Walking Tour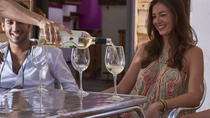 Cordoba Evening Traditional Tapas Walking Tour
Join our local guide for an evening of traditional Cordoban food, as we visit some of our favorite tapas bars, restaurant terraces, and local places. Along the way, we will try Cordoban classics, like stewed oxtail, salmorejo, mazamorra, Spanish ham and more! And nothing goes better with these dishes than the world-class wines of Andalusia!

Cordoba Midday Olive Oil Tour and Tasting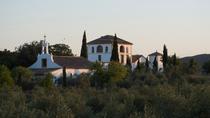 Cordoba Midday Olive Oil Tour and Tasting
Experience a fun day in the countryside and a delicious tasting session with an array of Cordoba's representative olive oil, along with Spanish wine and some varied snacks that pair perfectly with both.

Cordoba Morning Market Tour: Arabic Heritage and Tapas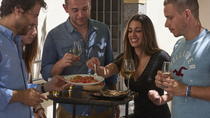 Cordoba Morning Market Tour: Arabic Heritage and Tapas
This cultural and culinary experience in Cordoba is all about the strong Arabic influence on Andalusian cuisine. The guide will take you to the local market to learn about the most important local ingredients. We will also visit some of our favorite local spots and share some delicious Andalusian-style tapas made with Arabic recipes, like eggplant with honey and mazamorra, with wines from Southern Spain. You'll learn all about the most popular dishes in town and enjoy the vibe of the 19th century patio.

Cordoba Mezquita Tour with Wine Tasting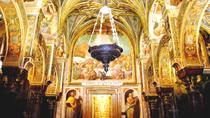 Cordoba Mezquita Tour with Wine Tasting
Explore the Mezquita, Cordoba's stunning cathedral-mosque, on a 2-hour walking tour! The grand dame of the city boasts a history that dates back to the days of AD 600, serving stints as both a Christian church and a mosque. Admire contrasting architecture like Mudejar, Baroque, Renaissance and Byzantine while exploring rooms such as the maksura and the Christian chapels. The tour finishes with a walk to one of Cordoba's pretty patios to sample a glass of local Montilla-Moriles wine.

Destinations