Cordoba - Restaurants
Just like most large cities in Spain, Cordoba has a rich variety of restaurants, tapas bars and cafés. Among them are some hidden gems, serving some of the best food in Andalucia. The vast majority are centrally located near the business and cultural districts of the city. Below, we have listed some of our personal favorites, providing value for money and serving simply the best food in this part of Andalucia. 
Noor - Two Michelin stars
Chef Paco Morales, who worked at Mugaritz and El Bulli, conjures up dishes from Andalucia's long multicultural history - cocina andalusi. His passion is the region's forgotten gastronomic heritage, focusing on the Arab period in the 10th century when Cordoban caliphate was at the peak of its power; this was in turn influenced by earlier Phoenician, Roman and Visigothic cultures.
At Noor, which means "light" in Arabic, you can enjoy contemporary dishes using historic recipes researched by Morales. One of his missions is to rediscover and reinterpret centuries-old ingredients and artisan techniques - pistachos, goat's milk, bitter oranges, turmeric and coriander, and carob instead of chocolate, all with an avant-garde approach - roast pigeon and duck foie gras on desert sand, turmeric, hawthorn berries and tahini. The Arabic theme also runs through the restaurant's design and décor; Morales calls it a "cultural project". Open Wednesday to Saturday.
Calle Pablo Ruiz Picasso 8, Esquina Pinto Muñoz Lucena, Cordoba. Tel 957 964 055.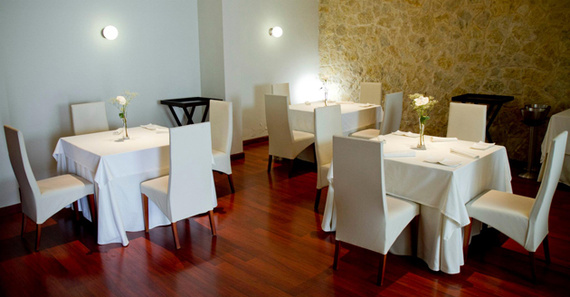 Choco - One Michelin Star
Kisko Garcia's restaurant offers cuisine which combines traditional and modern elements using high-tech methods. c.c.´s accepted. Closed during August and Sundays night & Mondays.
Calle Compositor Serrano Lucena, 14. Córdoba
Tel: +34 957 264 863. Map 
El Churrasco
Located in what was the heart of the historical and artistic Jewish quarter, El Churrasco is decorated in different styles which vary in accord with the dining room. 
Calle Romero, 16 (Judería). Córdoba
Tel: +34 957 290 819. Map 

Bodegas Mezquita
Specialising in fine wines, this bodega serves fresh, delicious tapas dishes, as well as fish and meat dishes. Lunch & dinner. Open from 12,3pm to 12,30am
Ronda de Isasa 10, local 8, 14003. Córdoba
Tel: +34 957 107 859. 

Almudaina
The Almudaina restaurant is housed in a small 16th century palace built by Leopold of Austria. It serves traditional Cordovan food. Lunch only, dinners in July & August. Closed Sundays. c.c.´s accepted. Jardines de los Santos Mártires, 1. Córdoba
Tel: +34 957 474 342. Map 
Caballo Rojo
The Caballo Rojo, set up by the "patron" - José García Marín -  serves traditional Andalucian cuisine with Arabic, Jewish and Christian influences. Lunch & Dinner. c.c.´s accepted. 
Calle Cardenal Herrero, 28. Córdoba
Tel: +34 957 475 375. 
Federación de las Peñas
Started in 1986, this restaurant has long been an important part of Cordoba gastronomy. It has space to accommodate big groups and parties. Lunch & Dinner. c.c.´s accepted. Flamenco Shows form 9pm to 10,30pm (free), everyday except Wendsday
Calle Conde and Luque, 8. Córdoba
Tel: +34 957 475 427. 

La Tranquera
Serving the very best of authentic, home-made Spanish and Argentinian tapas, La Tranquera is a popular and trendy place to eat. Try the different empanadas or the wide variety of chorizo dishes.
Cardenal González, 53, 14003. Córdoba. Tel: +34 957 787 569. 
Destinations