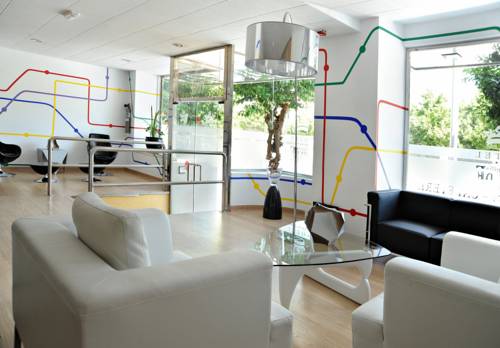 The Columbus Monument visibile from Hotel Monte Conquero.

Hotel sercotel Familia Conde
Well-located simple hotel in the city centre.
This two-star hotel offers 54 simple but stylish rooms with minibar and TV with satellite channels; those on the upper floors at the front (some of which have balconies) have good city views, while the rooms at the back are quieter. Bathrooms are bright and cheerful, in orange or purple. Free WIFI is available throughout the hotel.
Modern interiors after a refurbishment in 2012.
The bar is also decorated in cheerful shades; there's also a restaurant serving typical local dishes, and vending machines for drinks and snacks. The reception is sleek with modern décor, wood floors and contemporary furniture; staff are helpful and friendly.
The hotel has a very central location: in the pedestrianised part of the city, opposite the Casa Colon and conference centre, and close to the other main sights such as the museum. Limited free parking is available; note the car park is underground and has a low roof, so some cars such as 4x4s will not fit.

Destinations