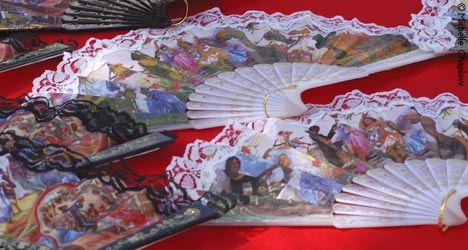 The people of Jaen, known as Jinienses, make every typically Andalusian holiday unique, thanks to their own traditions.
January 17 – Saint Anthony Day (Día de San Antón) – In Jaen, this day is celebrated with food, dance and... a race! Yes, there is an annual Saint Anthony's day race which takes place at night and is lit up with torches that the participants carry as they reach the finish line.
February (usually) –  Carnival is celebrated with great enthusiasm in Jaen. Read more about the Jaen Carnival.
March or April – Holy Week – The annual Semana Santa celebrations in Jaen are worth experiencing. Learn more about Holy Week in Jaen.
May – (bi-annual) ExpoOliva – This amazing opportunity to get to know just about everything there is about olive oil production both in Jaen and around the world is held in the provincial capital and at other points in the province every other year.
June – Virgen de la Capilla Festival – This is a June festival for the city's "co"-patron saint, with a very special attraction: the Lagarto Rock contest. This contest is put on by the Jaen Town Hall to offer young music artists the chance to show their stuff and earn their first album recording – if they win.
October – Fería de San Lucas – This is the annual Jaen Feria and it does take place very late by Spanish feria standards – so late that it claims to be the last of the season in all the country. This is one fair that often gets rained on, but that does not dampen local enthusiasm.
November – Día de Santa Catalina (patron saint of the city) – As might be expected, Santa Catalins is the Patron Saint of Jaen. This special day there is a celebration in which the locals head for the slopes under the Santa Catalina castle where they have barbecues and roast sausages (chorizo) and sardines.