Things to see in Jaen
Santa Catalina Castle is a good place to start. Especially if you are driving. From the motorway, it's easy to find your way up the hill to the castle. Simply follow the signs and find parking at the top. There's a Parador hotel, with a restaurant, The Castle has easy to follow tour and atop the castle to enjoy the panoramic views of the city and the surrounding mountain ranges.  
The Jaen Cathedral is an example of rennaisance architecture. It is a magnificent edifice both inside and out – definitely worth a visit.
The Cathedral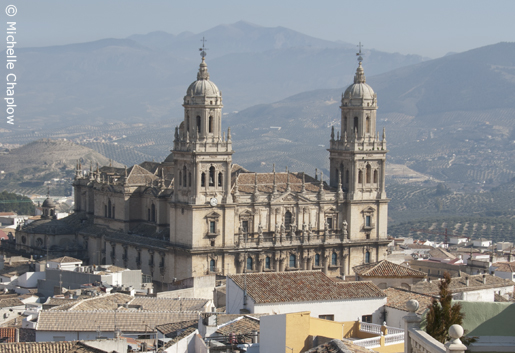 The city of Jaen is rich in history, with impressive monuments such as the Cathedral.
Cathedral Secrets
Cathedral Secrets
Jaén, an overlaying city from prehistory up to date, strategically placed in a natural border, is crossed by forces. Protected by a "legend gecko" and medieval walls, its cathedral is a Spanish Renaissance Gem. With that tour you'll be led to live the city as a local

More Churches, Convents and Monastaries
As would be expected in a city with Jaen's history, there is quite a collection of religious buildings, each with its own special architectural offering. The San Ildefonso Church is the largest centre for Catholic mass (after the Cathedral, of course). It offers a wide range of styles, including gothic, rennaissance and neoclassical all in one package, as it was built over two centuries (1300's and 1400's). Other religious buildings of interest are the Magdalena Church, which is the oldest in the city (and even contains remnants of an old mosque) and the Santo Domingo Convent that was build in the 1500's. The Santa Ursula Monostery also makes its home in Jaen along with numerous other smaller sanctuaries and temples.
Arabs and Jews
The Arab Baths in Jaen.
Obvsiously moorish rule left its mark on Jaen and in fact laid the foundations of the city. One of the main monuments to this era today is the Arab baths that are located under the Villardompardo Palace and date all the way back to the reign of the muslim ruler Abd-Al-Rahman II.

Jewish residents also played an important role in the city's history. If you've ever been to Seville or Toledo you might have been impressed with the old Jewish neighbourhoods. Not many know that Jaen has one too. You can still visit the narrow, winding streets and imagine the Sephardic culture that originated here. Stop by the Synogogue as well. 

Jaén is a virtual treasure chest, full of monuments to a rich history. Visit the tourist office to learn about guided tours and don't be afraid to ask the natives for more information about their beloved home.
Destinations