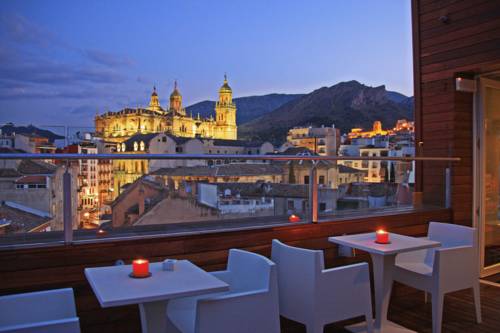 Hotel Xauen in Jaen offers fantastic views of the cathedral.

Hotel Xauen
Small well-located three-star hotel with contemporary décor and roof terrace.
This hotel is located in the heart of Jaen city and offers cutting-edge décor with red leather armchairs and deconstructed chandelier-type pendant lights.
Its 35 guest rooms have simple modern furniture with wood floors, 32-inch plasma TVs and bath tubs. You can see contemporary art work adorning the walls, as well as paintings showing the harvest of the crop for which Jaen is so famous: the olive.
The "Mirador" roof terrace offers a spectacular viewing point for nearby monuments such as the cathedral, as well the majestic mountain which surround the city. You can relax on the chic white sunbeds, and cool off with the outdoor shower.
Events such as business meetings for up to 95 people can be accommodated in an interior function room, or up on the roof terrace.

Destinations