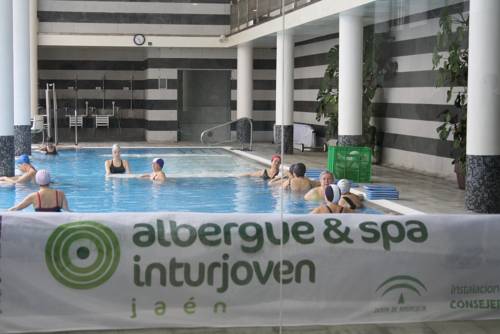 Youth hostel with indoor pool

Albergue Inturjoven & Spa
Youth hostel with indoor pool
Located in the west of the city, this stone-built hostel, newly converted from the remains of the historic San Juan de Dios hospital, offers a variety of facilities to suit all needs. It is part of the Junta (regional government-owned) network of youth hostels.
The interior is bright and contemporary, with light, open spaces, modern art, and primary-coloured furniture. A café area offers vending machines for drinks and snacks.
You can choose from a room with shared bathroom, room with private bathroom, or apartment. Some rooms have bunk beds.
The spa, gloriously spacious and light with a double-height ceiling and glass walls, offers an indoor swimming pool with thermal circuit featuring oxygenating beds, jets and underwater massage; Jacuzzi, sauna, and hammam (Turkish steam bath).
The restaurant has a spacious outdoor terrace, while the auditorium is large enough to accommodate large groups for events.

Destinations