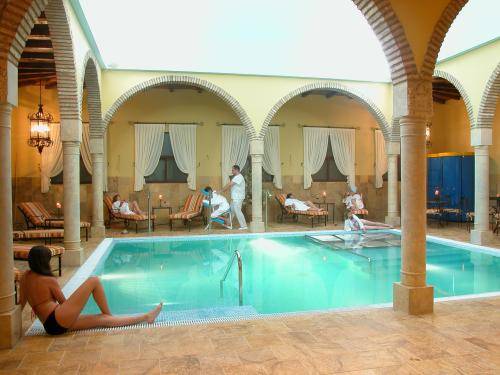 Gran Hotel & Spa Marmolejo
Gran Hotel & Spa Marmolejo
The Gran Hotel & Spa is a three-star hotel built in a classic Andalucian style with a restful atmosphere where visitors can enjoy a healthy and tranquil holiday. Marmolejo is situated in Jaen province (to the north of Granada) 65km east of Cordoba and about 220km from Malaga. The closest train station is in Andújar – 10km away, while Jaen city is 54 km away. It is a balneario, or medicinal spa.
Treatments offered: massage, underwater massage, lactotherapy (milk bath), Tuina massage (a Chinese technique combining manipulation and acupressure), osteopathy, hydro massage, mud therapies, whirlpool, "dream shower", jet spray, and aromatherapy. You can also try the Vichy shower (vertical jets over a massage bed) and toning Kneipp shower (using the company's naturopathic herbal products).
One to three-day packages are available.
Opening hours Monday to Saturday, 10.30am – 1.30pm, 5.30pm – 8.30pm, Sunday 10.30am – 1.30pm
Tel: + (34) 953 540 975
Book Gran hotel and Spa Marmolejo