Copa bars in seville
Seville is a great city for going out for drinks due to the huge variety of venues in a small area. You can easily visit four or five completely different bars without walking more than ten minutes between any of them. The main areas are: Alfalfa, where Pérez Galdós gets so packed with people on Friday and Saturday nights that cars can't drive down it; Alameda, which has a more alternative scene, with lots of gay bars and clubs; Calle Arjona on the corner with Adriano ; and calle Betis by the river in Triana, which is wall-to-wall with venues, from quiet bars to all-night clubs.
At night in summer, when the temperature doesn't dip below 30 deg C even after dark, the coolest places are either by the river or up on a roof terrace to catch the slightest breeze. In fact, many rooftop bars stay open all year round, offering a chic atmosphere, great views, and sometimes live music too.
On Calle Betis in Triana you'll find many bars and clubs, as well as outdoor bars in some of the parks. Clubbing in summer moves to the Isla de la Cartuja, where young people throng the many seasonal outdoor venues.
A cubano (double measure of spirit with mixer) will normally set you back around €8, while a small glass of beer (caña) is about €1-€2. Red wine (tinto) is reliable, often Rioja, and costs about €3-€5 a glass, while for dry white (blanco seco), try verdejo or rueda.
Friday and Saturday nights are the big ones, with people generally venturing out at about 11 or 12pm and staying out till 5am or later.
NEAR THE CATHEDRAL
Bar Tenderete
3B Rodrigo Caro
Small, narrow bar with a few tables at the back, popular with locals. Interesting décor of antique clocks and radios. Stays open very late - about the only place that does in this part of Santa Cruz. Often has spontaneous music - groups of friends with a guitar belting out flamenco. Good fun.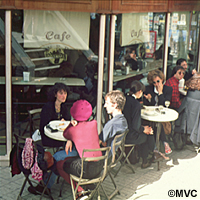 Outdoor Tapas Bar
La Terraza, Hotel EME
Alemanes 27
For cathedral views, you can't beat this rooftop bar, right opposite the mighty flying buttresses of the world's biggest Gothic basilica. Prices are high, but you're paying for the privileged and exclusive view of the vast Gothic doorway inside the cathedral's Patio de Naranjas.
Terraza, Hotel Doña Maria
Don Remondo 19
Best Giralda view from this corner roof terrace bar with murals of orange trees, especially at sunset when the former minaret glows golden.
Puravida, Hotel Fontecruz Seises Sevilla
Segovia 6
A fun, beach bar atmosphere at this place by the cathedral, with exotic cocktails and inventive food menu. Shaded sofas for relaxing, and tables out on the sunny terrace. Live flamenco on Sundays.
Pecata Mundi
Low-key and somewhat grungy but welcoming bar down a side street playing 1970s and 1980s hits. Good atmosphere with all ages, especially late at night.
Alfalfa
Garlochi
Boteros 26
If you haven't experienced the fascinating and bizarre spectacle that is <Semana Santa> in Seville, this is worth a visit. Decorated with all the requisite silver artefacts, Virgin effigies and ecclestiastical velvet of this much-loved religious event, it borders on the kitsch. Order a Sangre de Cristo (Blood of Christ), the house cocktail, sit back and absorb the high theatre that is Spanish Catholicism.
Cubanito
Ortiz de Zuñega 5
Tiny hole-in-the-wall bar, good stopping-off point for a couple of quick chupitos (shots) 2 euros each. Try the flaming cubanito, it'll put hairs on your chest.
Berlin
Boteros 4
If you don't feel like going home when everyone else has, head for Berlin. It's open till 7am, always has a lively atmosphere and you're sure to meet some interesting characters. Beware, though - it's a bit of a cattle market.
Centre 
Cerveceria International
Gamazo 3
Hundreds of beers from all over the world to choose from, including the usual stellar line-up from Belgium. Spain produces pretty decent cerveza artesanal (craft beer) too. Also does decent prawn tapas.
Merchants Ale House
Canalejas 12
Irish bar Merchants has a friendly crowd and is popular for watching major sporting events, with five TV screens (three downstairs and two upstairs). It's a popular expat hang-out (but don't let that put you off!) Good pub grub - quesadillas, loaded nachos and the like, and a decent terrace.
ALAMEDA
Eureka
Alameda de Hércules 64
Large bar with contemporary décor and relaxed atmosphere, just off the Alameda. Occasional DJs play a good mix of dance and funk, or funky as it's known here. Bar staff can sometimes have a bit of an attitude.
Rooftop, Corner House 
Alameda 31
Relaxed roof terrace at this low-key Alameda hotel with lots of pretty climbing plants, sofas, and hip feel.
La Señora Pop
Amor de Dios 55
Quirky decor, yummy cakes, and live music, including open mic on Mondays.
PARKS
Café del Casino
Avenida Maria Luisa
A period gem, this bar next to the Teatro Lopez de Vega is handy for the Parque Maria Luisa. Its faded elegance - fabulous art deco mirrors, chandeliers, pink marble pillars - make it ideal for an afternoon tea or an evening cocktail. Delightful, shady terrace with plenty of comfortable seating.
Capitania
Prado de San Sebastian
Outdoor bar in this pleasant park, at the far end from the university. Open all year round, but summer is the time to visit - get away from hot, narrow streets of city centre, relax under the trees and be lulled by the sound of water running through the Arabic-style channels.
TRIANA
Fundición
Betis 49-50
This big bar always has a lively crowd, especially at weekends. Good dance music with plenty of your favourite cheesy 80s pop classics. A good place to meet people, though not many of them will be locals!
Premier Bar, Hotel Zenit
Pages del Corro 90
This large rooftop terrace bar next to San Jacinto church is the most spacious in Seville, with four different seating areas, including sociable shady sofa-and-table set-ups for groups.
Terraza Atalaya
Plaza Alcalde Sanchez Monteiserin 2
Inside the curved skyscraper Torre Sevilla (the bar is part of the Eurostars Torre Sevilla hotel), this panoramic bar has stunning views from 170 metres up. As the circular space has floor-to-ceiling windows, you can (private functions allowing) walk all the way round, seeing the Aljarafe area to the west of the city, La Cartuja monastery, the river, the centre including the cathedral and Setas, and Triana. Look for the marks on the floor to indicate famous buildings. Good cocktails, with prices at the top end for Seville (14 euros). The tower is lit up in a different colour each month. Entry is 16 euros which includes a drink (for hotel guests and those dining at El Duende restaurant, entrance is free).
Note that if the bar is at capacity with hotel clients, or there's a large function, access may be closed. Check website before visiting.