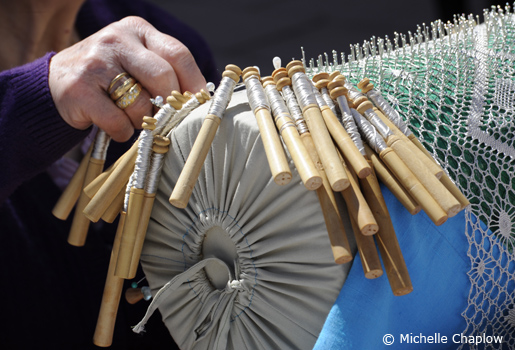 Lace making or 'encajes de bolillos'.
There are many traditional potters in this province, where the "Barros Malaguenos" (clay from Malaga) stand out. They are small figures representing popular scenes and types.
Artistic locksmiths carry on their work in forges in Arroyo de la Miel, Cartama, Estepona, Fuengirola, Humilladero, Marbella etc.
In Malaga, Marbella and Estepona carpet weaving is carried out by hand with wool, cotton, jude, flax and silk. Embroidery is done at present only at Malaga and Macharaviaya for table linen, handkerchiefs and sheets. Regional costumes and riding habits are made at Antequerra.
There are only a limited number of workshops in Malaga producing guitars.
Villages such of Malaga, such as Estepona, Manilva, Casares and Gaucin have a strong tradition of hand made lace making, it is extremely complicated and time consuming and there is now a movement within the villages to pass on these dying skills to the younger generations.