The famous Gabriel Campos Torres, also known as El Tiriri.
Gabriel Campos Torres (El Tiriri)
01 May 1935 - 09 February 2015
The flamenco world has been left in mourning once again after the death today of one of Málaga's most renowned singer's - El Tiriri - who passed away this morning at the age of seventy-nine.
Part of the backcloth of Málaga's long-standing flamenco tradition, El Tiriri had one of the most unique bronzed voices that sent a shiver of duende through the body, and although he was famed for the fiesta styles of the bulerias and tangos, his earthy tonality adapted well to the jondo styles of the syguiriyas and soleares.
Gabriel Campos Torres - El Tiriri - was born in the Calle Zurradores in Málaga on May 2 1935 and he was part of a gypsy clan whose members are among Málaga's most celebrated artistes. El Tiriri's father, also a flamenco singer called Manuel Campos, was the brother of La Pirula; a singer well-known for singing the tangos de Málaga.
La Cañeta de Malaga - the daughter of La Pirula - is still at the forefront of the flamenco scene today and anyone who has seen this artiste perform will be left with no doubt concerning the authenticity of the deep-rooted gypsy aura that this family's tradition upholds.
El Tiriri was weaned on the flamenco of the gypsy areas of El Perchel and La Trinidad, because, like all gypsy flamenco families, he was completely absorbed in it from the moment he was born. He grew up in a time when flamenco was simply a way of life and when the gypsies performed it mostly for their own entertainment, and these private family celebrations were the very epitome of Málaga's flamenco tradition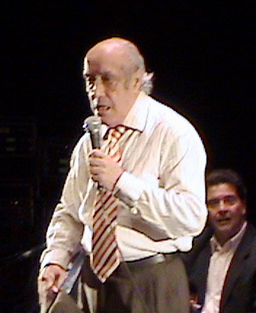 El Tiriri performing live on stage. 
He married Josefa Porres Reyes, who was in turn the sister of another of Málaga's most prominent artistes - La Repompa - and it was obvious from an early age that Gabriel would continue with his family's tradition.
His huge family performed under the name of Los Vargas during the 1950's and '60s and this popular flamenco troupe also included the celebrated dancer El Carrete, as well as Pepito Vargas, La Tembleca and El Niño de Almeria.
He also spent many years working in the flamenco company of Miguel de los Reyes and he was a regular performer in the flamenco haunts of Málaga; namely El Bodega El Pimpi and La Taberna Gitana; although he was most relaxed when singing among close family and friends during intimate parties and juergas.He last performed before the public during the flamenco biennial in Málaga in 2013; during which he was honored with a show that was staged in the picturesque Corralón de Santa Sofia in the district of La Trinidad and El Perchel; the very streets were Gabriel was raised.
El Tiriri performed a style of flamenco that seems to be slowly disappearing today, and even though there are many of this clan that still up-hold the family flamenco tradition, the spirit and charm of one of Málaga's illustrious old flamenco characters will surely be missed.