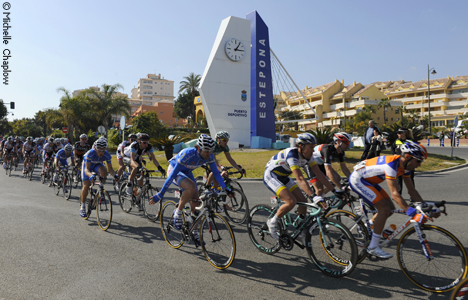 La Vuelta (Tour of Spain)
La Vuelta road cycle race takes place over three weeks in August and September each year and usually includes a few stages in Andalucia. In 2015 it starts in Puerto Banus Marbella and the first seven days are in Andalucia. See details below. It is one of the three Grand Tours in Europe, along with the Tour of Italy and the Tour de France, and is also on the UCI world tour. About 200 cyclists take part from about 20 teams.
The ongoing winner wears a red jersey to signify his lead, similar to the yellow jersey in the Tour de France. The colour of the leader's jersey has changed many times over the history of the race (it started over 70 years ago), but since 2010 it has been red. Other classifications have taken on the same colours as the Tour de France: a white jersey with blue marks on honours the 'King of the Mountains' or best climber; the green jersey is for the current top sprinter (based on points); a white jersey is worn by the combined points leader; and the leading team sports grey jerseys.
The race was first held in 1935 and has been held annually since 1955. Originally held in the spring, in 1955 the race moved to August/September to avoid direct competition with the Giro d'Italia. The Vuelta is seen as an important preparation course for the World Championships in October.
The race is broken down into 21 day stages, with the time summated, and the winner is the cyclist with the shortest time.

The Andalucia-Caja Granada team was the only Andalucian team in the 2011 race and having lost the Caja Granada, sponsorship leaving the Junta de Andalucia as sole sponsor, the team did not take part in 2012. The renamed Andalucia team lost its European Profesional status in 2013.
For more information, visit the official website of La Vuelta
La Vuelta 2017

The dates for La Vuelta 2017 are Sat 19th August (Nimes) to Sun 10th September (Madrid). The first stage of the 2017 Vuelta will be a team time trial that will take place around Nimes in France. The second stage takes place on French soil. Historically of the three Grand Tours, when it comes to Grand Departs, the Vuelta has tended to travel the least. The race has just two previous race starts abroad, in Lisbon in 1997 and Assen, Holland in 2009, in its 81-year history.

Andalucia stages are:
Wednesday, August 30th Lorca to Observatorio Astronómico de Calar Alto 188 km
Thursday, August 31st Motril to Antequera. Los Dólmenes 161.4 km
Friday, September 1st Coín to Tomares 197 km
Saturday, Sept 2nd Écija to Sierra de La Pandera 185.5 km
Sunday, September 3rd Alcalá la Real to Sierra Nevada. Alto Hoya de la Mora
La Vuelta 2016

La Vuelta 2016 took place from 20 August to 11th September. It did not pass through Andalucia
La Vuelta 2015
La Vuelta 2015 begins on Sat 22 August with a time trial from Puerto Banus to Marbella. The first seven stages are in Andalucia.
Sat Aug 22nd - Puerto Banús to Marbella (7,4 km)
Sun Aug 23rd - Alhaurín de la Torre to Caminito del Rey (165 km)
Mon Aug 24th - Mijas to Málaga (164,6 km)
Tue Aug 25th - Estepona to Vejer de la Frontera (203 km)
Wed Aug 26th - Rota to Ronda (182 km)
Thu Aug 27th - Córdoba to Sierra de Cazorla (204 km)
Fri Aug 28th - Jódar to La Alpujarra (188,3 km)
La Vuelta 2014
Stage 1 (Sat 23th August): Jerez de la Frontera  12km time trail in the city 

Stage 2 (Sun  24th August): Algeciras to San Fernando
- VIA: Tarifa, Zahara de los Atunes, Conil, Perto Real, Puerto de Santa Maria, Cadiz. 

Stage 3 (Mon 25th August): Cadiz to Arcos de la Frontera
- VIA: Chiclana, Medina Sidonia, Alcala de los Gazules, Ubrique, Grazalema.
Stage 4 (Tue 26th August): Mairena del Alcolar to Cordoba 
- VIA: Carmona, Lora del rio, Palma de Rio, Almodovar del Rio.
Stage 5 (Wed 27th August): Priego de Cordoba to Ronda 
- VIA: Cabra, Lucena, Antequera, Campillos, Teba..
Stage 6 (Thur 28th August): Benalmadena to La Zubia 
- VIA: Malaga, Rincon de La Victoria, Torre del Mar, Velez-Malaga, Alhame de Granada, Armilla.
Stage 7 (Fri 29th August): Alhendin to Alcaudete 
- VIA: Santa Fé, Illora, Monte Frio, Alcala la Real, Lucena, Antequera, Campillos, Teba..
Stage 8 (Sat 30th August): Baeza to Albacete 
- VIA: Ubeda, Alcaraz.
La Vuelta 2013
It commenced on Saturday 24th August in Vilanova de Arousa, Galicia. The cyclists headed down the eastern side of the country, through the provinces of Salamanca, Cáceres and Badajoz, before arriving in Sevilla for three stages in the region of Andalucia (see below). The riders then flew north as the course takes them through Zaragoza and Catalonia. After two stages through Andorra and France via the Pyrenees, the route re-entered Spain to continue into Aragon, La Rioja and Burgos. Stages 19 and 20 took place in Cantabria and Asturias before the teams headed to Madrid for the 21st and final stage on September 15th.
This years race featured three stages in the region of Andalucia:
La Vuelta 2011
In 2011 there were three stages in Andalucia, on 24-26 August: Baza to Sierra Nevada (24 August), Sierra Nevada to Valdepeñas de Jaén (25 August), and Úbeda to Córdoba (26 August).
For more on the Andalucian stages of the 2011 race, see our report.