VUELTA A ANDALUCIA (TOUR OF ANDALUCIA)
Vuelta a Andalucia Dates
Vuelta a Andalucia Womens Tour 2022
April 29th to 1st May 2022
The Vuelta a Andalucía or Ruta del Sol is a regional Spanish road cycle race held annually since 1955; it normally takes place in February. The 2020 edition was one of the last sporting events held befor the Coronavirus pandemic. In 2021 it took place later in May due to the Coronavirus. In 2022 there will be an inaugural 3 day womens edition in late April.
Since 2005, this has been a 2.1 category race on the UCI European Tour. The race usually takes place over five stage days. While it does not command anything like the spectators, or television and media coverage of La Vuelta (Tour of Spain), the Vuelta a Andalucia is known by the riders and team managers as a great opening season event, and as an alternative to the Volta ao Algarve, which takes place over the same days. Tour of Oman also coincides this week.  This race is renowned for its difficult mountainous terrain.
In fact the history of the Vuelta a Andalucia race goes back more than 80 years - the first race took place in 1925, organised by the secretary of the Unión Velocipédica Española, Miguel Artemán; but was not run again until 1955 when the Agrupación Ciclista Malagueña started organising it as an annual event.
From 1979 to 1986 it was called the Ruta Ciclista del Sol, and in 1987 it changed back to its original name Vuelta a Andalucia. In 1993 the name changed again to the present dual one: Vuelta a Andalucia - Ruta del Sol.
The winning rider wears a red jersey, a blue jersey for max points, a green jersey for king of the mountains, a white jersey for the sprints.
2022 Launch of a Womens Ruta del Sol
This year will see the launch a UCI 2.1-level women's race, Ruta del Sol Vuelta Andalucía Elite Women, set to be held from April 29 to May 1 in 2022. The race will venture throughout the provinces of Malaga, Cadiz and Granada, with a total route of 350 kilometres spread across three days of racing.
2022 Race - 16 and 19 February - 68 Edition
The sixty-eighth edition of the Vuelta Ciclista a Andalucia (also known as the Ruta del Sol) will take place between Febraury 16 and 20, 2022. Starting in Ubrique, the race will cover over 1,000 kilometres in five stages. The circular route traverses the provinces of Cádiz, Córdoba, Malaga, Jaén, Córdoba and Granada, before circling back and finishing in Jaén.
2022 Stages:
Day 1: Wednesday February 16. Ubrique (Cádiz) - Iznájar (Córdoba), 201 kms.
Day 2: Thursday February 17th. Archidona (Malaga) - Alcalá la Real (Jaén), 151 kms.
Day 3: Friday February 18. Lucena (Córdoba) - Otura (Granada), 153 kms.
Day 4: Saturday February 19. Cúllar Vega (Granada) - Baza (Granada), 166 kms.
Day 5: Sunday February 20. Huesa (Jaén) - Chiclana de Segura (Jaén), 168 kms.

2021 Race - 18 and 22 May - 67 edition
The sixty-seventh edition of the Vuelta a Andalucía was be held between May 18 and 22, and consisted of 807 kilometers in five stages with 17 mountain passes.
The tour will began on Tuesday, May 18, in Cala de Mijas, crossing the province of Malaga and Cadiz until reaching the finish line in Zahara de la Sierra after 152 kilometers and two mountain passes.
The second stage on Wednesday May 19 started from Iznájar (Córdoba) and finished in Alcalá la Real (Jaén) after a long 183 kilometers, with five mountain passes.
The third stage on Thursday 20 May it was the 'Queen stage'in the province of Jaén, it began in Beas de Segura and finish in Villarodrigo after 175 kilometers and will have six mountain passes.
The fourth stage, on Friday 21st May began in Baza (Granada) to finish in the town of Cúllar Vega (Granada) after 183 kilometers and two mountain passes.
The final stage on Saturday the 22nd crossed the province of Almería from Vera to Pulpí, after a 114 kilometers including two mountain passes.
A first victory in the Vuelta a Andalucía for the Colombian Miguel Ángel López, with a total time of 21 hours 6 minutes and 55 seconds. Second place was for the Dutchman of Jumbo Visma, Antwan Tolhoek, 20 seconds behind the leader. The third place for the Spanish Julen Amezqueta 1:10 behind the winner. On the podium, the young man from Granada, Carlos Rodríguez, from INEOS, was the leading Andalucian. The winner of the mountain went to Luis Ángel Maté from Marbella.
2020 Race - 19 and 23 February - 66 edition
The 2020 Vuelta a Andalucía took place between 19 and 23 February 2020. It was the 66th edition and was rated as a 2.Pro event as part of the 2020 UCI Europe Tour and the 2020 UCI ProSeries.
Stages were:
19 February 2020 – Alhaurín de la Torre to Grazalema, 173.8 km
20 February 2020 – Sevilla to Iznájar, 198.1 km
21 February 2020 – Jaen to Úbeda, 176.9 km
22 February 2020 – Villanueva Mesía to Granada, 125 km
23 February 2020 – Mijas to Mijas, 13 km

Winner of the general classifications was Jakob Fuglsang of Denmark of the Astana team in 17h 47' 58".
2019 Race - 20 and 24 February - 65 edition
Stages were:
20 February Sanlúcar de Barrameda to Alcalá de los Gazules 170.5 km Medium mountain Stage winner Tim Wellens (BEL)
21 February Seville to Torredonjimeno 216.5 km Hilly stage winner Matteo Trentin (ITA)
22 February Mancha Real to La Guardia de Jaén 16.3 km Individual time trial winner Tim Wellens (BEL)
23 February Armilla to Granada 119.9 km Mountain stage winner Simon Yates (GBR)
24 February Villa de Otura to Alhaurín de la Torre 163.9 km winner Medium mountain stage Matteo Trentin (ITA)

Winner of the general classifications was Jakob Fuglsang of Denmark of the Astana team in 17h 42' 00".
2018 Race - 14 and 18 February - 64 edition
The 2018 Vuelta a Andalucía was the 64th edition of the cycle race and was held on 14 February to 18 February 2018. The race started in Mijas and finished in Barbate. The race was won by Tim Wellens(GER) of the Lotto-Soudal team in 17hrs 41' 50".
Stages were
14 February Mijas to Granada half mountain (197,6 km)
15 February Villa de Otura to La Guardia de Jaén mountain (140 km)
16 February Mancha Real - Herrera plain (165,1 km)
17 February Sevilla - Alcalá de los Gazules half mountain (191,2 km)
18 February Alcalá de los Gazules to Barbate half mountain (100 km)

RACE REPORTS
Vuelta a Andalucia 2017
Vuelta a Andalucia 2016
Vuelta a Andalucia 2015
Vuelta a Andalucia 2014
Vuelta a Andalucia 2013 and earlier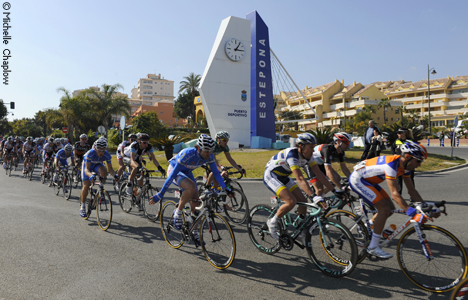 More information on the Vuelta a Andalucia website.