VUELTA A ANDALUCIA (TOUR OF ANDALUCIA)
Vuelta a Andalucia Dates
Vuelta a Andalucia tour 2021
May 18th to 22nd 2021
The Vuelta a Andalucía or Ruta del Sol is a regional Spanish road cycle race held annually since 1955; it normally takes place in February.
Since 2005, this has been a 2.1 category race on the UCI European Tour. The race usually takes place over five stage days. While it does not command anything like the spectators, or television and media coverage of La Vuelta (Tour of Spain), the Vuelta a Andalucia is known by the riders and team managers as a great opening season event, and as an alternative to the Volta ao Algarve, which takes place over the same days. Tour of Oman also coincides this week.  This race is renowned for its difficult mountainous terrain.
In fact the history of the Vuelta a Andalucia race goes back more than 80 years - the first race took place in 1925, organised by the secretary of the Unión Velocipédica Española, Miguel Artemán; but was not run again until 1955 when the Agrupación Ciclista Malagueña started organising it as an annual event.
From 1979 to 1986 it was called the Ruta Ciclista del Sol, and in 1987 it changed back to its original name Vuelta a Andalucia. In 1993 the name changed again to the present dual one: Vuelta a Andalucia - Ruta del Sol.
The winning rider wears a red jersey, a blue jersey for max points, a green jersey for king of the mountains, a white jersey for the sprints.
2021 Race - May 18th to 22nd 2018
The sixty-seventh edition of the Vuelta a Andalucía will be held between May 18 and 22, will consist of 807 kilometers in five stages with 17 mountain passes.
The tour will begin on Tuesday, May 18, in Cala de Mijas, crossing the province of Malaga and Cadiz until reaching the finish line in Zahara de la Sierra after 152 kilometers and two mountain passes.
The second stage on Wednesday May 19 starts from Iznájar (Córdoba) and will finish in Alcalá la Real (Jaén) after a long 183 kilometers, with five mountain passes.
The third stage on Thursday 20 May it will be the 'Queen stage'in the province of Jaén, it will begin in Beas de Segura and finish in Villarodrigo after 175 kilometers and will have six mountain passes.
The fourth stage, on Friday 21st May will begin in Baza (Granada) to finish in the town of Cúllar Vega (Granada) after 183 kilometers and two mountain passes.
The final stage on Saturday the 22nd it will cross the province of Almería from Vera to Pulpí, after a 114 kilometers including two mountain passes.
RACE REPORTS
Vuelta a Andalucia 2017
Vuelta a Andalucia 2016
Vuelta a Andalucia 2015
Vuelta a Andalucia 2014
Vuelta a Andalucia 2013 and earlier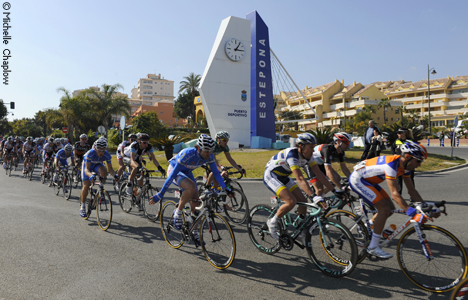 More information on the Vuelta a Andalucia website.