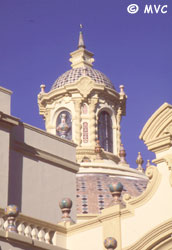 Sevilla, Teatro Lope de Vega
Andalucia has a long and proud legacy of live theatre. Many towns and cities have amateur groups that perform at special times of year like Semana Santa or during the Carnival celebrations in Cadiz. Other theatres function year-round, holding plays and musical events, mostly in Spanish but sometimes in other languages as well, depending on the size of the foreign population in the locality.
Here is a list of Theatres in Andalucia. For the programmes consult our general What's on Guide. Tickets for many performances are available form the Customer Service desk of El Corte Inglés department stores.
Cordoba
Cordoba Conservatorio Superior de Musica
Calle Angel de Saavedra 1.
Tel: 957 473 909
Teatro Coliseo
Tel: 957 481 904
El Ejido
Municipal Theatre,
El Ejido, (Almeria)
Tel: 950 541 007
Seville
For more information about Theatres in Seville see our Seville theatre page.
Malaga
Teatro Cervantes
c/ Ramon Marin s/n, 29012, Málaga.
Tel: 952 224109
More>
Sala Romero Estero
Ramos Marín s/n, Málaga.
Tel: 952 224 109
Teatro Canovas
Plaza de El Ejido s/n, Málaga.
Tel: 952 260 611
Teatro Alameda
Calle Cordoba 9, Málaga.
Tel: 952 213 412
Fuengirola
Salon Varietes Theatre
Privately run English-speaking theatre with regular productions from October - May, including musicals, plays and the occasional concert.
Calle Emancipación, Fuengirola.
Tel: 952 47 4 542
Palacio de la Paz
Recinto Ferial, Fuengirola.
Tel: 952 585 836
For more information about theatres in Fuengirola see our Fuengirola theatre page.
Marbella
Teatro Cuidad de Marbella
Plaza Ramon Martinez, s/n.
Tel: 952 903 159
Box office open Tue-Sat 11.00-14.00 and 19.00-22.00.
On the performance day tickets are on sale up to five minutes before the show.
On Sundays and holidays box office is open two hour before the show.
Telephone sales from Box office : Tue-Fri 11.00-14.00 and 18.00-20.00 on 952 224 100
Auditórium
Open air venue for summer concerts in Marbella
Parque de la Constitution.
Tel: 952 825 035
Centro Cultural El Ingenio
Theatre workshops in the summer at this venue.
Ticket sales one hour befor performance.
Barriada El Ingenio, San Pedro de Alcantara
Tel: 952 786 968
Ronda
Teatro Vincente Espinel
Alameda de Tajo, s/n, Ronda.
Tel: 952 877 821 & 952 874 442
Huelva
Gran Teatro
Calle Vásquez López 13
Tel: 959 24 57 03
More>
Estepona
Teatro Costa del Sol 
Cerca Avenida Juan Carlos I y Avenida Andalucia