Internet Connections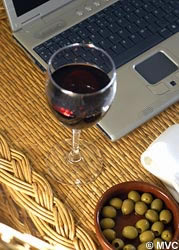 Relaxing with your laptop in
Andalucia
If you are travelling to Spain in the near future the chances are that you will want to keep in touch by making sure you have access to the Internet.
Ease of communication is also part of the reason why so many British and Northern Europeans are moving to Spain. You can continue working just as if you were still in the UK. There has been a huge reduction in the cost of international phone calls, thanks to the liberalisation of the European telecoms market and internet is as readily available as in the UK.
With Internet technology up-to-date on the Costa del Sol, in line with many countries in Europe, there are several ways you can get connected depending on your needs. Below is a list of all types of Internet connections available.

ADSL
ADSL is a data communications technology that enables faster data transmission over telephone lines. It does this by utilizing frequencies that are not used by a voice calls, allowing you to talk to someone over the phone at the same time as browsing the Internet. ADSL is generally the industry standard providing the fastest Internet connection where a telephone line is available. The general cost is 13€ a month for line rental with Movistar  and around 45€ a month for the Internet.
If you want to move around your office or home and still connect to the Internet without cables, then make sure you have a wireless router. Wi-fi is a wireless data networking protocol which allows computers to access the internet, within a given area, without the use of cables. Nearly all laptops nowadays come with a built in wireless capability.
To get ADSL Internet you must have a telephone line, and then sign up to one of the many available ISPs (Internet Service Providers). ADSL is not available on lines that exceed a certian distance from the telephone exchange. The whole process, including activation of a landline and Internet, can take around two weeks.
Fibre Optica

Available in some districts of cities and larger towns and offers thoeretical speeds of up to 300 MB/s.  
Dial up
'Dial-up' is a form of Internet access that uses telephone lines. The user's computer, or router, uses an attached modem connected to a telephone line to dial into an Internet service provider's (ISP). This is by far the slowest and oldest form of Internet connection and is slowly being phased out due to all the other alternatives available. However, some people still choose this connection so they can access the Internet without fixed monthly charges.
The following Internet connections do not require a telephone line.
Wifi hotspots
Physical locations that offer Internet access over a wireless network through the use of a shared internet connection. Hotspots can typically be found in coffee shops and various other public establishments. Coffee shops will generally give out their access code if you ask for it.  Some WiFi hotspots in public places like stations and airports require you to make a credit card payment through a browser. 
3G Mobile Broadband (Dongles)
Usually this is provided by an external USB modem (in the UK we call any external device like that a 'dongle') which are now as small as USB pen drives. These have SIM cards inside them, the same as what you would find in a mobile phone, and run on the mobile phone network. Very often these are provided by the mobile network operators with their own branding and can provide Internet at the same speed as ADSL wherever there is 3G coverage. 3G Internet is available with an 18 month contract, usually with free unlimited Internet, however some operators do offer a 'pay as you go' option.
3G is ideal for people who need the Internet in Spain but don't need it all year round and so don't want to get locked into a contract. It's also perfect for people on the move, or for those who can't get a land line in their house. <
Wireless internet (WiMAX)
You can now enjoy the best class of broadband Internet access using WIMAX technology with Iberbanda's new AVI (Alta Velocidad en Internet) service to download music, videos, play games online and to access all the content and services that the Internet offers. You can also use the telephone while connected to the Internet. WiMAX is a high speed, long range wireless connection that is perfect for areas where Telefonica landlines are not available, usually in new urbanizations or in small mountain villages. The only requirement for this type of Internet connection is a clear 'line of sight' to the transmitter towers. Iberbanda provide detailed maps of their coverage areas if you need to check.
Satellite
Broadband Internet access via satellite is available almost worldwide, including boats and mobile land vehicles. Similar, but slower Internet service is also available through Low Earth Orbit (LEO) satellites, however their coverage areas also include the polar regions at extreme latitudes, making them truly global.
Internet Cafes