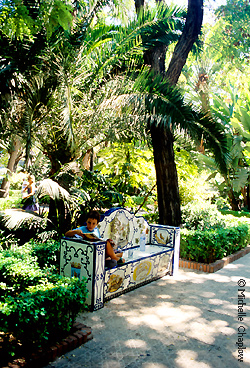 Reading on a bench in the Alameda
Alhameda

Alhameda is the plaza in the centre of Marbella, near to the Old Town, it is a place where people often arrange to meet.

Others go to watch the world go by. The gardens are full of interesting tropical plants and fountains, surrounding by beautiful views. From here you can book your personal horse and carriage trip to see Marbella in style or, if you prefer, stroll on towards the sea along the Avenida del Mar or cross Avda. Ricardo Soriano to explore the old town.

It is a very popular place for the locals to meet and catch up, if you have the time to look it is a great way to see the relaxed Mediterranean lifestyle in action - or inaction.
The park flanked with cafés, bars and restuarants, so you can pass a few hours watching the world go by. The Alameda is easily accessible by bus.
Destinations