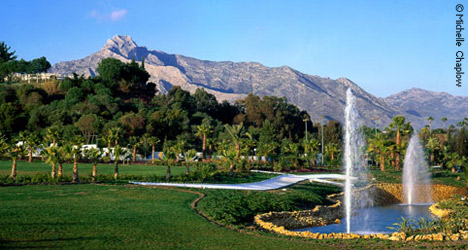 King Fahiad Gardens
King Fahiad Gardens are easily seen from the Golden Mile,  they are just below the Saudi Arabian King's house and feature the white 'sword of Arabia' and a small lake with fountain. 
The photo above was taken around 1994 when the gardens were first inaugurated. Today they are much more mature andf the features are not so clearly defined.

Whilst the gardens are not fenced they are no footpaths, demonstrating that the gardens were intended to be seen from outside rather than enjoyed as a public park.
Destinations