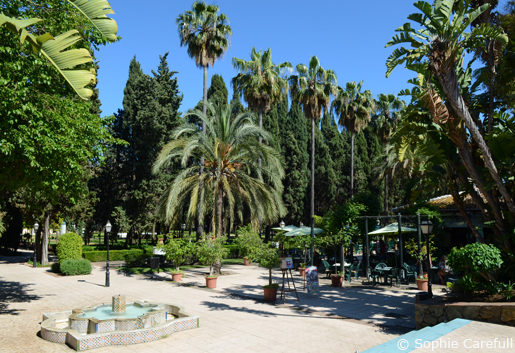 Parque de la Constitucion with its cafe and palm trees.
Parque de la Constitución

Parque de la Constitución, a large city park was built in the 1950´s just out of the town centre, minutes walk from the beach. It is especially tranquil and was once the garden of a private residence. Parque de la Constitución is one of the most visited parks in Marbella. The park has an amphitheatre that is ocassionally used for outdoor concerts and plays in the summer season, the anphitheatre is beautiful example of traditional Andalucian architecture, pay special attention to the arches and the tiling. the building is also the location, since 2000, of the Conservatorio de Música y Danza de Marbella (Marbella music conservatory).  
There is a café / bar to enjoy refreshments, and there is a small observatory if you wish to see the stars. A lovely place to spend an afternoon away from the hustle and bustle of the town centre, and not far to walk.
For the children there is a small play area with swings. The park itself boasts a vast selection of vegetation from smaller Bourgainvillea and Jasmine flowers to grande palm and olive trees, and other tropical shrubbery, it is careful tended so it is a lovely place to spend time alone with a book or with your family.
Destinations