Albuñuelas
The village of Albuñuelas has been occupied since the prehistoric period. It is an ideal destination for those who enjoy outside sports such as hunting, canyoning, paragliding and hiking.  
Albuñuelas is located in the west of the Valle de Lecrín, to the north of the Sierras de Almijara and Guájares, and on the right side of the river of the same name. The village centre is found in the Sierra also called Albuñuelas.
Things to see

la Fuente del Cañuelo, an archaeological site found 10km from the village which connects with the Almuñecar road. According to legend, walkers who return to the sierra (mountains) at nightfall might see a strange moon, known as la luz de la Rambla, which continues with them until they reach the mill at the village entrance.
Albuñuelas is divided into three neighbourhoods: el Alto, el Bajo and Fernán Núñez o Loma. Where they join, the most interesting monuments include el Convento de los Misoneros de San Pedro de Alcántara, a 13th century building which was restored and is now home to la Casa de la Cultura (Culture centre) in the village; la Ermita de San Sebastián, in the Bajo neighbourhood, with a coffered ceiling made of carved wood; la Iglesia de El Salvador, whose earliest remains date from the 16th century and include a baroque altar; and la Torre del Tío Bayo, an old watchtower of Arabic origin found on the outskirts of the village. There are also some old laundry rooms still used by its residents.
GASTRONOMY
The albuñueses' most important products are its handmade cheeses, olive oil and home grown vegetables. Traditional dishes include guiso de choto o cabrito, (veal or goat stew); tortillas de collejas, (omelette made with a Campion plant among other ingredients); migas, (a dish made with breadcrumbs, garlic, olive oil and other ingredients) and puchero (traditional stew).
You can also try sweet dishes such as pestiños, (deep fried dough covered with sugar or honey); buñuelos, (dough balls) and roscos de huevo o de anis, (doughnuts made with egg or aniseed).
FIESTAS
August is the most important month for fiestas in Albuñuelas. In this month they celebrate las Fiestas Populares y Patronales en Honor de Nuestra Señora de las Angustias. Celebrations start on the 15th with the procession of the aforementioned Virgen, San Sebastián and la Virgen Niña, evening celebrations usually involve fireworks. Other fiestas include: la Fiesta de San Sebastián, in January; el Día de los Hornazos, in March or April; el Día de las Roscas and Corpus Christi, in June and el Día de la Cruz, in May.
DIRECTIONS
Albuñuelas is found 38km from Granada City: take the E-902/A-44 (Direction Armilla/Motril). Take exit 153 to join with the GR-SO-5 which takes you directly to the centre of the village.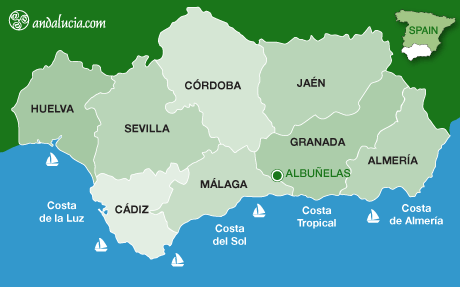 Destinations