Villamena is home to the Arroyo de la Laguna caves, the source of mineral waters from the Padul lake. Made up of two populations, Cozvíjar and Cónchar, the former is the village 'capital'.
Walking through Cozvíjar, visitors will find three important buildings: the Casa Grande, an 18th-century palace owned by the counts of Villa Amena; the Iglesia Parroquial de San Juan, adjacent to the Casa Grande and built in the mid 16th century; and the Ermita de la Virgen de la Cabeza, from the same era. This parish church, found in the outskirts of the village, is said to have been built at the spot where a farmer found the head of a Virgen statue whose body was created later. Nowadays, this statue is kept in another church, that of Cónchar, and in its place resides the Virgen de Lourdes.
In Cónchar, you can also enjoy some of the most attractive natural landscapes in Villamena. The Fuente Que Ríe is a waterfall located in the outskirts of the village centre that can only be reached on foot. There are also two buildings of historical and artistic interest here, the first being the Iglesia Parroquial de San Pedro. This church, dating from the 17th century, has a Mudejar style facade in brick and stone with valuable works of art. The second, a Nasrid watchtower known as La Atalaya, was used for visual communication between the Castillo de Dúrcal and the Torre del Marchal. It can be found along the Camino de las Albuñuelas.
Gastronomy
If you want to try the typical dishes from Villamena, you should ask for migas (a dish made with breadcrumbs, garlic, olive oil and other ingredients), olla (stew), puchero (hotpot) and various potajes (vegetable stews or soups). These can be followed with desserts made with almonds, roscos (donuts covered with sugar and cinnamon) and pestiños (deep-fried dough glazed with honey or sugar), and should be accompanied by local wine.
Fiestas
The best day to visit Villamena is New Year's Day, when residents celebrate Fiesta del Mosto. With music, dancing and fireworks, locals and visitors have the opportunity to savour local wines free. These are often accompanied with a small tapas dish of remojón, a dish made with oranges and cod.
Directions
Villamena is 30km from Granada city. Take the A-44 (direction Armilla-Motril) and leave at exit 153 to join with the GR-SO-6 (direction Cozvíjar-Dúrcal).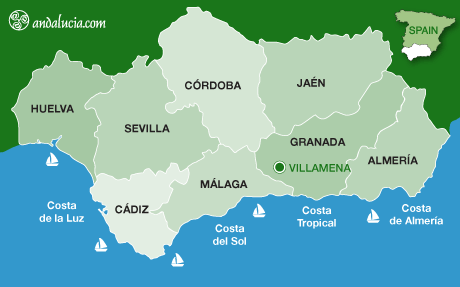 Destinations