Translated by Emma Cattle and Fiona Flores Watson
As well as a rich historical and artistic heritage, resplendent in various religious buildings, El Pinar offers one of the most spectacular landscapes in the Alpujarra: the steep, narrow Tablate ravine, with its ancient bridge dating from the 15th century which serves as the main gateway to the Alpujarras.
The town of El Pinar, which extends across both slopes of the Valle de Lecrín, is comprised of two areas: Pinos del Valle, the village capital, and Ízbor, which is also the name of the river which flows through the ravine.
The area of Pinos del Valle is situated at the foot of Mount Chinchirina; at the top of the peak you'll find the Ermita del Santo Cristo del Zapato. It was built in 1925 and co-called because of a picture of Christ with a painted shoe at his feet. In the Barrio Alto neighbourhood, you can find the Ermita de San Sebastián, which dates from the early 19th century and is considered one of the most interesting examples of neoclassical architecture in Granada province.
In the Barrio Bajo, the Iglesia de la Inmaculada Concepción, built at the end of the 16th century, is worth seeing; look out for the multicoloured carvings from the schools of Mena and Martínez Montañés. For one of the best views of the Béznar reservoir and the rest of the area, go to the neighbourhood of Las Eras.
In the Ízbor area, visit the Iglesia de la Purísima Concepción, in the middle of the hamlet. With one nave and a tower, in the oldest part of the church you can see part of the mosque structure upon which it was built. Also of interest are two bridges, one old and one new, and the surrounding area of Los Acebuches.
In Tablate, the most impressive building is the Iglesia de Santiago, which was constructed in the 16th century and has a beautiful Mudejar coffered ceiling. Although the church is not used, it's in a good state of conservation.
GASTRONOMY
Visitors can enjoy such typical dishes as tortillas de habas (bean omelette) as well as desserts made with local almonds from the extensive orchards nearby.
FIESTAS
Two fiestas stand out in El Pinar: the Fiestas Patronales de Ízbor, which take place in December with the traditional procession of San José and the Virgin Mary and a festival held at night; and Santo Cristo del Zapato, in the area of Pinos del Valle. This takes place in May and is marked with a pilgrimage to the chapel, a quinary (five masses) and a procession.
DIRECTIONS
El Pinar is 45km from Granada city. Take the A-44 (direction Armilla-Motril), then take exit 164 to arrive at the centre of Pinos del Valle.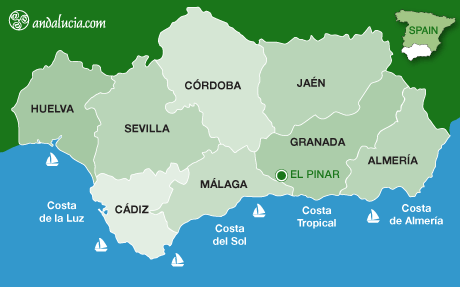 Destinations