El Pinar
El Pinar is not a village as such but a municipal district created in 1976 when three small but separate villages were merged together. The villages are Pinos del Valle, Izbor and Acebuche. Pinos del Valle, the larger village is also the 'capital' where the town hall is located.
As well as a rich historical and artistic heritage, resplendent in various religious buildings, El Pinar district offers one of the most spectacular landscapes in the Valle de Lecrin: the steep, narrow Tablate ravine, with its ancient bridge dating from the 15th century which serves as the main gateway to the Alpujarras.
GASTRONOMY
Visitors can enjoy such typical dishes as tortillas de habas (bean omelette) as well as desserts made with local almonds from the extensive orchards nearby.
FIESTAS
Two fiestas stand out in El Pinar: the Fiestas Patronales de Ízbor, which take place in December with the traditional procession of San José and the Virgin Mary and a festival held at night; and Santo Cristo del Zapato, in the area of Pinos del Valle. This takes place in May and is marked with a pilgrimage to the chapel, a quinary (five masses) and a procession.
DIRECTIONS
El Pinar is 45km from Granada city. Take the A-44 (direction Armilla-Motril), then take exit 164 to arrive at the centre of Pinos del Valle.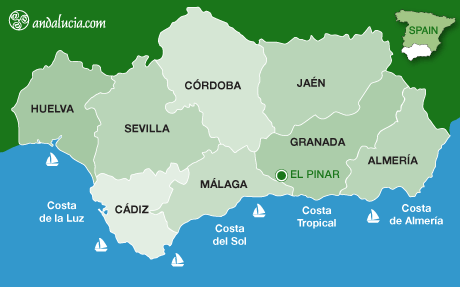 Destinations