Ardales
The rural village of Ardales, well known to Spaniards who spend summers at its reservoir-side campgrounds, is perched along the border of the Ronda mountains. It offers more than stunning countryside and fresh air, however, as those who take the time to enter the town will find. History has been good to Ardales - at least from tourist office's point of view. Throughout the centuries, this town been inhabited and conquered by numerous peoples, who generously left their marks in the form of archeological sites and important monuments.
Camininto del Rey
The restored Caminito del Rey cliff hanging footpath is located south of Ardales.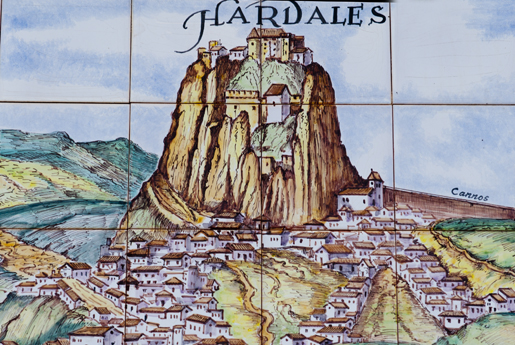 An artist´s impression on ceramic tiles of the Ardales.
It appears that Ardales was considered to be an attractive place to live - or at least make camp - as far back as the Neolithic period. Today remains are found near the castle and the church. Copper age remains have also been found in the Ardales cave.
Civilisation seems to have reached this area with the Romans who contributed a a dash of caché in the form of a castle and the safety it could afford. Perhaps such an attraction made the area appealing to the Moors who later took the town, gave it a new name - Ard-Allah, or Land of Allah - and settled in for a few hundred years. They also left their mark in the form of monuments, and built the mosque that would later serve as a foundation for the 15th century church that still stands today.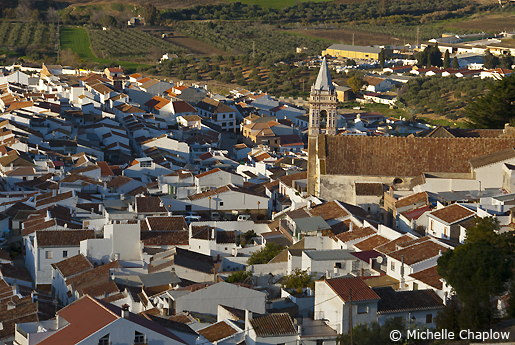 What a beautiful town, with the church Spire standing proud.
The lakes and resevoirs surrounding Ardales make this area a delightful getaway - one that Spaniards readily take advantage of during the hotter summer months, and small hotels and rural resorts supplement the campgrounds, while water sports are a well known theme for holiday makers.
Climb up the hillside for the best views of Ardales.
Ardales is also a beautiful place to live, and those wishing to integrate with Spain's rural landscape and charm should pay this area a visit. While it is relatively untouched, there are new property developments in the area.
The restored Caminito del Rey cliff hanging footpath is located south of Ardales.
Hotels
La Posada del Conde
This rustic hotel is set between the Conde del Guadalhorce and Guadalteba Reservoirs in the Desfiladero de los Gaitanes Park. It offers spacious rooms with scenic forest views and free Wi-Fi. Rooms at La Posada Del Conde feature traditional décor, elegant furniture and under-floor heating.
Destinations