Casabermeja
Casabermeja, otherwise known as the door or gateway, to Malaga, is a great a place to head inland from the coast to explore the mountains of Malaga.
This village lies within the Parque Natural del Montes de Malaga (Malaga mountains natural park) and is also close to various other mountain ranges such as El Torcal, de Cabras, del Co and de Camorolos, as well the Arroyo de Guadalmedina and de Coche.
THINGS TO SEE IN THE VILLAGE
A cemetery is the town's most important site. It was declared an artistic-historical monument in 1980 primarily for its unique architectural value.  Since it is located on the outside of the village, clinging to the hillside, clearly visible to all the traffic on the busy Malaga to Antequera motorway.  Strangely Casabermeja is known for its cemetery.
The parish church of Nuestra Señora del Socorro is situated in the centre of the town.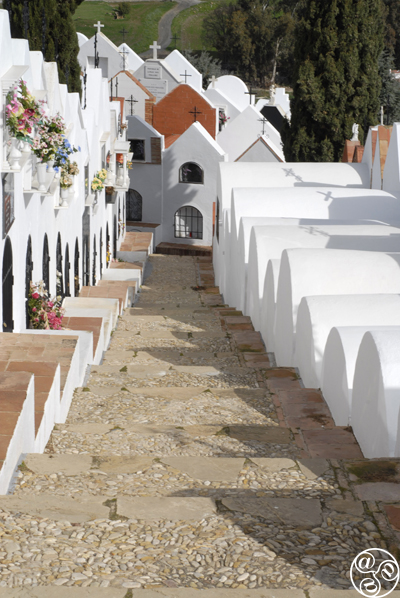 THINGS TO SEE Outside THE VILLAGE
Torre Zambra
The Torre Zambra is a 13th century Arabic watch-tower that is located about 4km from the town. Its position offers magnificent panoramic views of the province of Malaga, part of the province of Granada, and also over to North Africa.
Peñas de Cabrera
The Peñas de Cabrera, near the Guadalmedina river is around 5km from Casabermeja and features rock paintings of great archaeological value.
Ermita
Ermita is a hermitage church located next to the recreation area of El Chorro.
Handicrafts
Caserbermeja's traditional local crafts include pottery, decorative ceramics, wickerwork and saddlery.
GASTROMONY
Traditional delicacies include ola de la era, chivo en pepitoria, conejo al ajillo, gazpacho, plato de los montes, migas, bollos de garbanzo, borrachuelos and roscos de vino.
FIESTAS
Corpus Christi
(first Thursday to Sunday in June)
San Sebastian
day (the patron of the town) 20 January,
San Marcos
day is 25 April,
Pilgrimage of the Virgin of Socorro
(the patroness of the town) is 15 August.
Casabermeja summer feria
takes place a few days before the Malaga festival in August.
Certamen de Cante Flamenco
one of the oldest in Andalucia and takes place towards the end of July.
LOCATION
The town is located 20 km north of Malaga city. Casabermeja can be reached by the A-45 (Autopista de Malaga), and from the western Costa del Sol form AP-46 Autopista de las Pedrizas.
Destinations