el chorro
Imagine three stunningly beautiful turquoise coloured lakes bordered by pine forests. A tranquil retreat where you can swim or fish, or picnic on the lake shore. Hardly sounds like a typical Andalucian scene, does it! But west of Alora that is what you will find. Malaga's "Lake District" is in fact three artificial lakes created by a dam built across the dramatic 200 m. high Guadalhorce river gorge, known as the Garganta del Chorro. Watch out for the eagles which continually circle around the sheer cliffs.
From your journey through the Valle de Abdalajis you will arrive at the small village of El Chorro and your first sight of the dam and the gorge above with a small bridge across the middle of the gorge.
EL CAMINO DEL REY
The Conde de Guadalhorce dam was officially opened in 1921 by King Alfonso XIII of Spain and on this occasion he took a walk along the specially constructed catwalk, called El Caminito del Rey (The King's little Path), pinned to the face of the gorge some 100 m. above the river. The Camino del Rey as it became know was closed to the public and reopened in March 2015. More>
Note: Tickets are now available for the Caminito del Rey path which is open from 12 June 2020. Under the Coronavirus regulations of the state of alarm tickets are limited to 550 a day. Only residents of Malaga province can walk the path until Malaga enters Phase Three of Coronvirus de-escalation plan in late June 2020.
Caminito del Rey Entrance Ticket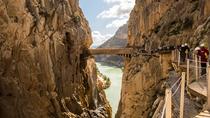 Caminito del Rey Entrance Ticket
Caminito del Rey entrance tickets are curently only available for some dates in October 2019 can be booked online here for the official 10€ per person ticket price. Booking here via Viator includes a full refund if cancelled more than 24hrs in advance. Everyday except Mondays. Price 10€
Caminito del Rey - Morning Guided Tour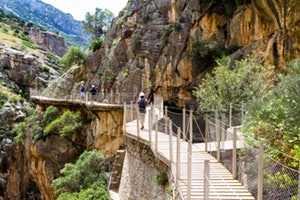 Morning Guided Tour
Caminito del Rey three hour group guided tour. Meet at El Kiosko restaurant near the start of the walk at 11:45 hrs. This time is suitable for catching the train from Malaga city to El Chorro and the shuttle bus to El Kiosko. Thursday to Saturday. Price 32€
Caminito del Rey - Private Full Day Tour from Cadiz, Jerez or El Puerto de Santa María

Private Day Tour from Cadiz, Jerez or El Puerto de Santa María
Caminito del Rey private tour for just you and your party with knowledgable guide. Pick up from hotels in Cadiz, Jerez, or El Puerto de Santa Maria. Also Chiclana, Sanlucar de Barrameda or Rota with an extra fee. Travel to start of path and collection from exit. Everyday except Mondays. Hotel pick up at 09,00 hrs - Price from 165€ pp (for six)
MALAGA LAKE DISTRICT
To reach the lakes follow the MA-444 road round to the left of the gorge. Just keep on this road and you will come to the lakes, about 4 km. drive. Even though the lakes are very popular in the summer, their shores are so vast that it is easy to find a quiet place to sunbathe, swim and picnic.
We recommend a delightful waterside restaurant El Kiosko, a particular good choice for the winter visit as a blazing log fire and their excellent roast lamb and pork go down well after a walk along the shores of the lake. But equally delightful is their summer terrace with views to the lake. To find El Kiosko continue east along MA-444 by the lakes, through a tunnel by EL Mirador de Ardales lakeside restaurant. You will find El Kiosko on the right hand side of the road.
Take the minor tarmac but pot-holed road MA-448 up to the upper reservior of the Embalse Tajo de la Encantada is hydroelectric pump storage project for exceptional views. At the end of the road you will find Restaurant Bar La Mesa, do support it, as it opens and closes due to lack of passing trade. On the way up here you pass the ruins of the deserted Moorish village of Bobastro.
Nearby interesting villages to visit are Ardales, Alora, and Teba.
Hotels
La Posada del Conde
This rustic hotel is set between the Conde del Guadalhorce and Guadalteba Reservoirs in the Desfiladero de los Gaitanes Park. It offers spacious rooms with scenic forest views and free Wi-Fi. Rooms at La Posada Del Conde feature traditional décor, elegant furniture and under-floor heating.
Destination tags