EL CAMINITO DEL REY - STATISTICS
Statistics about the 1.3m unique visitors to the Caminito de Rey official website in its first year of operation were anounced in a press release by the Malaga provincial council. 22% of web visitors were from abroad. We were pleased to see reported that "The visits that come from diariosur.es, and other travel websites, such as skyscanner.es and andalucia.com stand out".
On the actual footpath, there were 23.000 visitors in the first month of operation. In the first year of operation there were 300.000 (free) tickets issued online. The Malaga provincial council has not reported how many tickets were actually used as it is known a high percentage of the free tickets that could not be re-dated were 'no shows'.

Since the purchase of tickets was introduced on 22nd April 2016 up to 25th July 2016 there were 86.100 visitors, equal to 100% sales of the maximum 1.100 per day allocation.
We calculate the annual visitor ticket sales to be slightly less than 300.000 per year making it about the twelth most Popular attraction in Andalucia.
In September 2017 Francisco Campano of the path management company anounced that the number of foreigners using the path was increasing and over the summer had reached 65%. There had been visitors form 84 different countries.
On the three year Aniversary of the reopening of the Caminito del Rey the Provincial government anounced that there had been one million visitors to the path. A figure widely reported with enthuasm in the local press. However since year one issued 300.000 free tickets with a large proportion of no shows, and year two and three were under a management contract with a limit of 300,000 per year we calculate a figure closer to 800.000. It was also reported that the economic benefit to the area is 100m € which assumes an unrealistic 120€ average spend per visitor and includes Advertising Value Equivalent (AVE) contrary to PR industry established Barcelona Principals.
Guided tour Camino del Rey
Private Guided tour Camino del Rey
Guided excursions from other destinations to Camino del Rey
Private guided excursions from other destinations to Camino del Rey
Note: Tickets are now available for the Caminito del Rey path which is open from 12 June 2020. Under the Coronavirus regulations of the state of alarm tickets are limited to 550 a day. Only residents of Malaga province can walk the path until Malaga enters Phase Three of Coronvirus de-escalation plan in late June 2020.
Caminito del Rey Entrance Ticket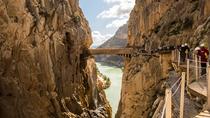 Caminito del Rey Entrance Ticket
Caminito del Rey entrance tickets are curently only available for some dates in October 2019 can be booked online here for the official 10€ per person ticket price. Booking here via Viator includes a full refund if cancelled more than 24hrs in advance. Everyday except Mondays. Price 10€
Caminito del Rey - Morning Guided Tour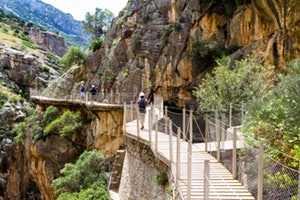 Morning Guided Tour
Caminito del Rey three hour group guided tour. Meet at El Kiosko restaurant near the start of the walk at 11:45 hrs. This time is suitable for catching the train from Malaga city to El Chorro and the shuttle bus to El Kiosko. Thursday to Saturday. Price 32€
Caminito del Rey - Private Full Day Tour from Cadiz, Jerez or El Puerto de Santa María

Private Day Tour from Cadiz, Jerez or El Puerto de Santa María
Caminito del Rey private tour for just you and your party with knowledgable guide. Pick up from hotels in Cadiz, Jerez, or El Puerto de Santa Maria. Also Chiclana, Sanlucar de Barrameda or Rota with an extra fee. Travel to start of path and collection from exit. Everyday except Mondays. Hotel pick up at 09,00 hrs - Price from 165€ pp (for six)