El chorro Hostals & Hostels
Take me to El Chorro Hotels
Take me to Hostals & Hostels Home
Home of the popular El Caminito del Rey walk, just south of the stunning Ardeles with its lakes and reservoirs and set in breathtakingly beautiful Andalucian countryside, El Chorro is an excellent destination for those looking for some country air. Whether it's a walk through the mountains or a day spent on one of the many surrounding lakes, this village offers a pleasant get away in a tranquil environment.
There is a scenic train line that also provides a service to and from Malaga city, just over an hour away. El Chorro is not large and is very much to be considered a rural village, however its' selection of hostals, hostels and other accommodation are mostly charismatic, traditional buildings set among stunning natural beauty.
Hostals and Hostels definition
A HOSTAL (also know as a guest house) provides basic accommodation at a reasonable price and a private room. These are common in Spain and not hard to find. In cities many occupying a floor of an apartment block as opposed to a stand alone building. Rooms don't all come with en-suite facilities, however guests will usually have the option of this. In the countryside this is often the official classification for what is better understood as a Guest House or a Bed and Breakfast.
A HOSTEL in Spain is that which you would expect to find in most parts of the world - the opportunity to stay in shared dorms at a low price. These are often social hubs among travelers, with common rooms and, at times, cheap bars making them excellent places to meet new people or find another travel companion. Many hostels also have private rooms available, as well as dorms.
Guided tour Camino del Rey
Private Guided tour Camino del Rey
Guided excursions from other destinations to Camino del Rey
Private guided excursions from other destinations to Camino del Rey
Note: Tickets are now available for the Caminito del Rey path which is open from 12 June 2020. Under the Coronavirus regulations of the state of alarm tickets are limited to 550 a day. Only residents of Malaga province can walk the path until Malaga enters Phase Three of Coronvirus de-escalation plan in late June 2020.
Caminito del Rey Entrance Ticket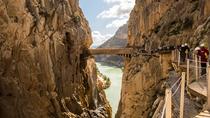 Caminito del Rey Entrance Ticket
Caminito del Rey entrance tickets are curently only available for some dates in October 2019 can be booked online here for the official 10€ per person ticket price. Booking here via Viator includes a full refund if cancelled more than 24hrs in advance. Everyday except Mondays. Price 10€
Caminito del Rey - Morning Guided Tour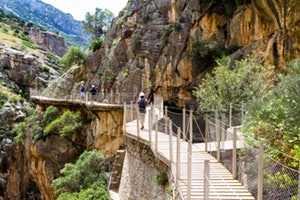 Morning Guided Tour
Caminito del Rey three hour group guided tour. Meet at El Kiosko restaurant near the start of the walk at 11:45 hrs. This time is suitable for catching the train from Malaga city to El Chorro and the shuttle bus to El Kiosko. Thursday to Saturday. Price 32€
Caminito del Rey - Private Full Day Tour from Cadiz, Jerez or El Puerto de Santa María

Private Day Tour from Cadiz, Jerez or El Puerto de Santa María
Caminito del Rey private tour for just you and your party with knowledgable guide. Pick up from hotels in Cadiz, Jerez, or El Puerto de Santa Maria. Also Chiclana, Sanlucar de Barrameda or Rota with an extra fee. Travel to start of path and collection from exit. Everyday except Mondays. Hotel pick up at 09,00 hrs - Price from 165€ pp (for six)
Destination tags