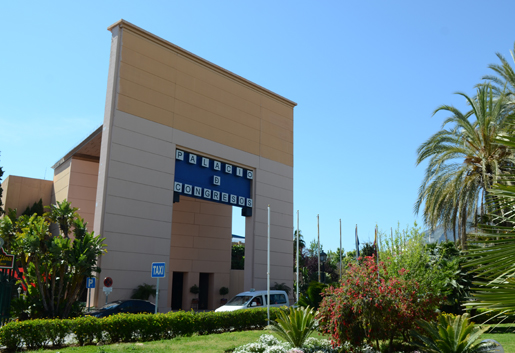 Marbella conference centre before Churro Leyton mural.
Marbella - Palacio de Ferias y Congresos
Marbella Auditorium and Exhibition Hall
In 2019 the congress centre was renamed Palacio de Congresos y Exposiciones Adolfo Suarez following a series of modernisations. The most visual was mural painted first on the front façade in 2018. The cubist style called 'Great Mural Marbella' by Malaga artist Curro Leyton was extended in 2019 along the northern facade. Different geometric shapes - in blue, white and yellow - with changes in pattern are integrated throughout the architecture of the building. The murall covers an area of 3,300 square metres.
This conference centre has a totel floor space of 10.000 square metres. It has total auditorium capacity for 1.520 people plus an Exhibition Hall with floor space of 820 square metres and a capacity of 1.600 people. There is also a 350m2 open plan entrance hall and five meeting rooms.
The Auditorium with capacity for 1,520 theatre seats with folding desks can be divided into three separate auditoriums of 440, 593 and 486 seats. When completely open has a central stage and two smaller stages on both sides. The maximum ceiling height of the Auditorium is 5.83m and the minimum is 4.00m. The main stage is 12.43 metres long and 12.67 metres wide, with a height of 4.60 metres.
Entrance Hall is 24m by 14.5m and 3.8m high.
Exhibition Hall 54m by 14m wide and 3.8m high.
Five natural light meeting rooms of 100ms with capacity for 90 persons.
The Blue Conference room is located on the first floor, designed to house up to 208 people in theatre style fixed seats with folding desks. It is 12.30m long and 15.75m wide with a height of 4.00 metres.

Tel: (+34) 952 828 244
Location
Avda. José Meliá, 2, 29600 Marbella, Málaga, España