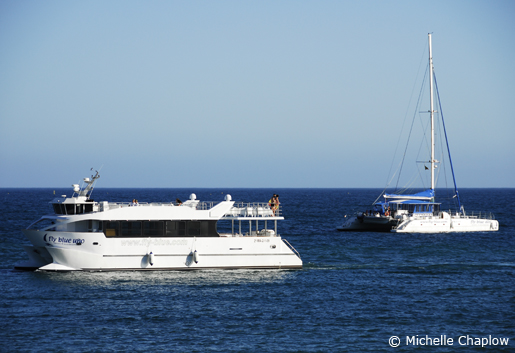 Take the catamaran from Marbella to Puerto Banús.
MARBELLA Marinas 
by Ivan Candela

For many a trip to Marbella is incomplete without a visit to Puerto Banus, the most well known of all the ports on the Costa del Sol it offers mooring for 915 boats of various sizes. It's a voyeur's paradise whether you like to admire sports cars and fancy yachts, or just enjoy watching the world go by.
Puerto Banus
Puerto Banus Marina
Crammed with designer boutiques, trendy bars, happening nightclubs and gourmet restaurants, Puerto Banus prides itself on having something to offer everyone. By day a shopper's delight, the atmosphere after sunset can be quite different, with visitors of all nationalities partying shoulder to shoulder to the sounds of the latest music, sipping cocktails in all the most fashionable hotspots. More about
Puerto Banus Marina.
But don't be fooled into thinking that Puerto Banus is the only marina in Marbella!
Puerto Deportivo de Marbella  & Puerto LA BAJADILLA
Marina Info
Latitude: 36* 30'N - Longitude: 4*53'W - VHF: CH9 & 16
Harbour Entrance width: 20m depth: 4m
337 Moorings 8 - 35m long, 1.5m deep
Puerto Deportivo de Marbella is a bustling port with 377 berths and much to offer the whole family. There are many different types of restaurant, ranging from the more expensive á la carte to family-run beach bars offering platters of fish and tasty salads to share. Children are well catered for with a selection of play areas and activities. Within easy walking distance to the main shopping centre and Old Town of Marbella, this port is particularly popular at weekends with locals and visitors. Walk along the promenade and during summer you'll find a collection of different kiosks selling gifts and souvenirs, as well a an evening market on the western end.
Just a short distance away, Marbella's Puerto La Bajadilla is a more traditional working fishing port where, since 1955, fishermen have been landing their catches to be sold in the local markets. This port has been hitting the headlines in recent years as it is the subject of a proposed renovation project by the Qatari Royal Family, which planned to create a much larger marina on the site complete with luxury hotels and new restaurants. They also envisaged capacity for up to 1,220 berths, disembarkation points for cruise ships and a commercial area with the aim of enhancing the jet set reputation of Marbella. More about Marbelle New marina project.  
Cabopino marina 
To the east of Marbella, one of the locals' favourite marinas is hidden beyond sandy dunes and attractive apartment complexes. The quiet Cabopino marina has a small but superb selection of restaurants, coffee shops and bars clustered around the yachts and motor cruisers berthed there. Popular for lunch and dinner, the relaxed ambience attracts those who have enjoyed a lazy day on the sandy Cabopino beach as well as the golfers who've faced the challenge of the nearby course. More About Cabopino Marina.
The diversity of Marbella's marinas ensures that they each have their own unique appeal to residents and visitors to the area. Why not visit them all and draw your own conclusions?
Ivan Candela is founder and director of Lamar Properties. For more information on marina properties, contact Lamar Properties Marbella.
Ferry boat to Puerto Banús Marina
A catamaran ferry runs between Puerto Deportivo de Marbella and Puerto Banús, an adult return is 15 euros, it's 8.50 euros for children. Single tickets cost 8.50 and 5 euros respectively. The ferries run from 10:30 until 19:00.