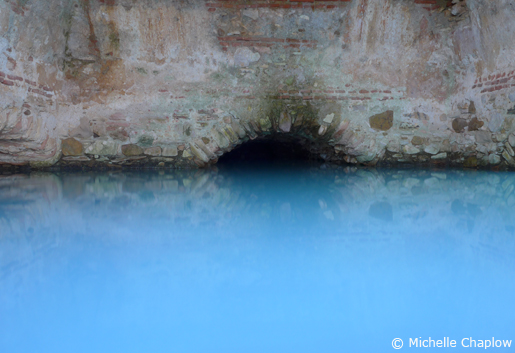 The Roman Sulphur baths of Hedionda in the valley below Manilva.
Home | Hotels | Rentals | Beaches | Restaurants |
Roman Sulphur baths of Hedionda

In the valley below Manilva are the Roman Sulphur baths of Hedionda. The high sulphur content is due to a sulphur spring which flows from a limestone outcrop above the valley. It attracted the attention of the Romans 2000 years ago and an arched bathing complex was created of which four chambers still exist, although other adjacent water channels can be seen which suggest the complex was once much larger. During his period as governor of southern Spain between 63 and 60 BC no less a person than Julius Caesar is said to have cured himself of a skin infection by bathing here.
Sadly in an artless attempt at preservation, a modern concrete canopy has been erected over what survives of the original Roman structure which can still be seen from the entrance by those not wishing to take the plunge. A small first chamber leads via an archway and tunnel to a much larger inner chamber. Hardy-types not put off by the all-pervading stench of rotten eggs still come to immerse themselves in the cool, murky, health-giving waters and to take away (although there are signs saying no to) samples of the alluvial mud for use as face packs and poultices.
In fact the baths are quite popular on fine Sunday afternoons. Families from the village picnic on the surrounding grass under the shade of eucalyptus trees and the children take over the baths. Thankfully during the week this archeological site is deserted.
The site is actually located within the municipality of Casares but can only be accessed and enjoyed from Manilva or Sabinillas. Read more abou tthe Roman Baths
Book private tour to see Roman Baths from Coasta del Sol
Book private tour to Casares from Coasta del Sol
Destinations