Holiday Rentals in and near Casares
Casares is a beautiful Andalucian ´pueblo blanco´ (white village), situated a short drive inland from from Estepona, on the Costa del Sol. It receives a large number of visitors all year round who like to photograpg the view of the village and wander its narrow streets and visit the castle. There are a number of holiday rental options to welcome these visitors.
There are three distinct areas for holiday rental. In the white village itself town houses can be rented. In the surrounding countryside there are villa rentals acailable either just outside the village or further afield into the countryside. The larger ones have swimming pools. The third option for holiday rentals is those located on the coast in the urbanisations of Casares del Mar, Bahia de Casares and Marina de Casares. Apartment complexes and some villas on the coast have with facilities such as swimming pools, private parking and games rooms.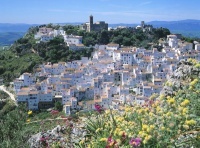 Selected, approved Casares villas and village houses. Traditional, comfortable, quality accommodation from Andalucia specialists Rustical Travel.
The following holiday rentals in and near Casares are carefully selected from our affiliate partners.
Villas & Holiday Homes outside the village

Casa de Vacaciones
Featuring a private terrace with impressive views, Casa de Vacaciones is located 14 km from Estepona and the Mediterranean coast. The holiday home offers free WiFi, free parking and soundproof rooms.
Holiday Home Casares
Offering free on-site parking and an outdoor pool, Holiday Home Casares is located in Casares. Free WiFi access is available. The accommodation will provide you with air conditioning and a terrace.
Villa Los Olivos
Featuring a private swimming pool and a furnished terrace with sun loungers, a Balinese Bed, a second dining area and incredible views, this villa is located in Casares. Comes with free parking and air-conditioning.
Apartments on the Coast

Albayt Beach
Situated in Casares del Mar, this apartment complex is ideally set on the seafront and offers outdoor pools and clean, luxurious apartments. It features a terrace, free parking and free WiFi.

Apartment Casares 25
Located in Casares, Apartment Casares 25 offers an outdoor pool. This self-catering accommodation features free WiFi. Accommodation will provide you with air conditioning and private parking.
Apartment Casares Sol
Located in Casares, Apartment Casares Sol offers an outdoor pool and free parking. Accommodation is comfortable and luxurious, and will provide you with air conditioning, a terrace and a seating area.
Villas & Holiday Homes in the countryside

Las Cerezas
This typical Spanish villa with private swimming pool is situated in a protected nature reserve, between the hills with beautiful views over the mountains. Free parking and free internet. Child friendly.

Finca El Paraiso Andaluz
With the option to rent the whole villa or individual rooms, Finca El Paraiso Andaluz is located in the hills of Casares, 10 minutes' drive from the beach. It has a large garden with a pool and a sun terrace with fantastic views. Free internet and parking.
Destinations