Casares - Roman Lacipo
After one and a half kilometres west from Casares (MA-528) at the junction on the A-377 Manilva - Gaucin road a small track oposite can be seen. This was once the main route to Jimena de la Frontera and San Martin. Those who have no objection to a bumpy ride can still use it. Over a cattle grid and just past a farmstead, a plateau guarded by a ruined sections of wall can be seen. Here lye the unguarded remains of the Iberian and Roman town of Lacipo waiting.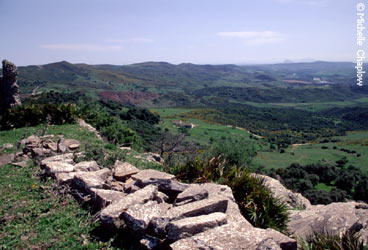 Lacipo was founded in the second century BC for the local population. It grew considerably and its economic strength was based on olive oil. The town was a seat of government for the immediate area until it declined in the second century AD. The largest remain structure that can be seen today is a south facing section of town wall standing 30 feet high. Lacipo's ruins don't offer the traveler who can be bothered to climb the hill a great temple or amphitheatres, but a stunning view and a remarkable insight of two types of architecture standing side by side long after the people who knew then , lived and loved and worked in them have vanished into the years. Be wary of the idly grazing cows.

A much fuller description of Lacipo can be read in the book In Search of Andalucia.
Destinations