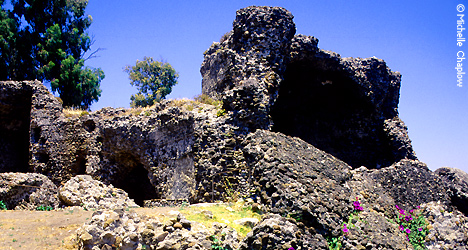 Las Bovedas
Located next to the beach in the Guadalmina urbanisation, the baths date back to the 3rd century and were first discovered in 1926.
The solid mortar structure has survived the passing of history and weather well, particularly considering the location near the beach. The construction was built around an octagonal patio of 9.75 metres in diameter which in its time was encrypted. Parallel to the walls are the remains of a 1.20 metre deep octagonal pool. The upper floor consists of a circular gallery with access to several small rooms.
The generally held conclusion about the crypts is that they were Roman Baths, although some believe that they were large deposits for the water carried by the nearby aqueducts
At present the ruins are closed to the public telephone 952 785 252 for more information.
La Torre de las Bóvedas
This is a XVI century defensive watch tower. Its name derives from the roman baths located about 50m to the west. It is one of a chain of towers along the coast that weere constructed at this time to warn off pirates and poosible moorish invasions from north Africa. It is slightly conical in shape but less so than others leading to a larger terrace perhaps to accomodate greater artillary. The stone, not brick construction has a height of 13m and a base diameter of 8.3m.
It is not open to the public but can be examined at close quarters by taking the path at the end of Calle 3 in Guadalmina Baja district.
Destinations