Taxis
There is not usually much difficulty in finding a taxi when you need it. They are always white and have a logo on the door which displays their official number. Learn enough Spanish to explain where you are going as most drivers won't speak English. The meter marks up the basic fare, however a supplement may be added after midnight and during fiestas or public holidays.
National travel Coaches
City Buses
There a frequent urban buses in Cordoba. Pay the driver for the journey. Many bus stands have clear route maps and diagrams. From the Coach or RENFE train station a no 3 or 13 bus will go to the centre of the city.
Driving
Parking is a big problem in Cordoba city centre. Pay and display meters and blue road line markings. Try near the entrance to the Alcazaba. There are also several small private car parks. One centrally located one is next to the "Bridge Gate". If driving in from Seville or Malaga consider parking in the Avenida Fray Albino on south bank of the river between the Roman Bridge and the San Rafael bridge. This route provides a grand overall view of the city and a pleasant entrance walking across the roman bridge.
More about driving in Andalucia.
Cordoba Hop on Hop off Bus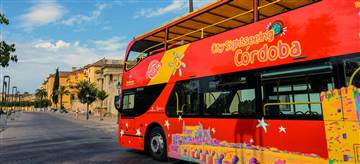 Cordoba Hop on Hop off Bus
Our tourist Hop on Hop off Bus takes you to the most famous attractions in Cordoba. We invite you to sit, relax and enjoy the best views of the city. You can hop on and off at any of the 17 stops. You are also welcome to stay on board for the full tour. The bus tour includes pre-recorded commentary in 10 languages

Destinations