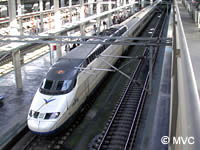 AVE high speed trains
Trains
The AVE high speed train links Cordoba with Sevilla (45min) and Madrid ( 2hrs) and also Antequera and Malaga.  The RENFE station opened in 1994 and is located in the northwest of the city. More Cordoba station.
National travel Coaches
City Buses
From the Coach or RENFE train station a number 3 or 13 urban bus will go to the centre of the city.
Coaches
The main coach station is located near the RENFE train station. It is convenient and well signed with plenty of ticket windows, an information desk and a shopping mall.
Bus timetable for coaches in Cordoba.
Cordoba Airport
The local airport to the west is only a small airstrip suitable for light aircrafts. 
More about airports in Andalucia.
Driving
Parking is a big problem in Cordoba city centre. Pay and display meters and blue road line markings. Try near the entrance to the Alcazaba. There are also several small private car parks. One centrally located one is next to the "Bridge Gate". If driving in from Seville or Malaga consider parking in the Avenida Fray Albino on south bank of the river between the Roman Bridge and the San Rafael bridge. This route provides a grand overall view of the city and a pleasant entrance walking across the roman bridge. More about driving in Andalucia.
Destinations