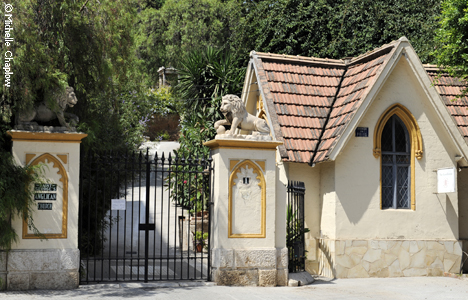 History | Location | Residents | Today | Useful links 
How to find the cemetery
The cemetery is easy to find along the north side of Avenida de Pries, it is close to the Hotel Miramar and the bullring. From the Alameda Principal you can get Nº11 to English Cemetery.
Visiting 

Open Tuesday to Sunday 10.00 to 14.00


Admision   3€     (Reduced for under 18's and over 65's)  2€
Free for family of residents, events at St Georges Chiurch and under 12 yrs.

Address:   Avenida de Pries, 1


Telephone:  952 22 35 52
www.cementerioinglesmalaga.org
Open: Tuesday to Saturday 9:30am to 2:30pm; Sunday 9:00am to 1:00pm.
Closed Mondays.