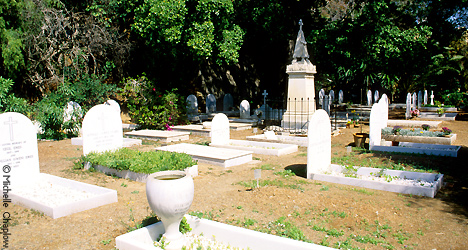 History | Location | Residents | Today | Useful links 
When William Mark arrived in Malaga in 1816 to take up his post as British Consul, he was astonished and horrified to learn that in Spain burial in consecrated ground was reserved exclusively for Catholics. Protestants were buried without rites and in Malaga the burials were bizarre. The bodies of dead Protestants, regardless of nationality, were buried upright on the seashore facing the sea, under the supervision of the local guards and invariably at midnight. Not surprisingly, the bodies frequently attracted the attention of hungry, stray dogs or were swept out to sea.
This blatant religious discrimination first aroused British concern in the mid-1650s, when Ascham, Oliver Cromwell's envoy, was assassinated in Spain and buried without ceremony. Although Cromwell insisted on a paragraph being written into a commercial treaty between the two countries, it was completely ignored. Subsequent treaties of Utrecht (1713), Madrid (1715 and 1721) and Versailles (1783) proved no more helpful.
William Mark, after trying to organise a cemetery for many years, finally approached the Governor of Malaga, General José Mansó, who immediately called the Board of Health and arranged for a suitable site to be provided. In 1830, the granting of the land was ratified by King Ferdinand VII.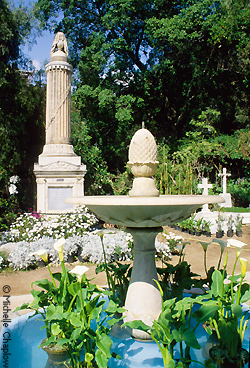 Decorative fountain in the English Cemetary
A year later the cemetery received its first tenant, the hapless 26-year-old Robert Boyd, executed along with Torrijos and his fellow rebels on San Andrés Beach. Their story is interesting but clearly a foolhardy attempt to overthrow King Ferdinand VII without local support. Eleven years later an obelisk in their memory was erected in Malaga in the centre of Plaza de la Merced and can still be seen today just down the road from Plaza del General Torrijos.
Richard Ford was in Spain at the time of Boyd's execution and, on 11th January 1832, wrote to his friend Henry Addington, British Envoy Extraordinary and Plenipotentiary in Madrid, that Mark, ". . . is gone wild about the Malaga events and the execution of Mr. Boyd. In his heart I believe he was as glad as a young surgeon to get a subject for his new churchyard. He certainly has a hankering after my wife's body, not her live body, but, hearing of her ill health, tried all in his power to get me to Malaga to have a pretty female specimen in his sepulchral museum."
Mark rests there today and his monument, one of the cemetery's most prominent memorials, is a tall, fluted column surmounted by an urn draped with a mourning cloth. A little hole in the path led to the discovery in 2007 of a large crypt under this monument where Mark and seven other members of his family remain.
In 1839-40 a 'lodge temple' was built in classical style with a small chapel and incorporating the cemetery guard's dwelling. With its fine Doric columns, this structure was adapted and enlarged in 1890-91 to become the present St George's Anglican Church. The adjoining mortuary is now the church library. A Gothic style Gatehouse was constructed in 1856 just inside the entrance to the cemetery which has two carved lions lounging over the gate.
Hans Cristian Andersen visited Malaga in 1862 and fell under the spell of the cemetery's romantic melancholy, prompting him to write: "... I wandered in a little paradise, this charming garden. Here were myrtle hedges, covered with flowers sufficient for a thousand bridal wreaths; high geranium bushes growing round the tombstones, which had inscriptions in Danish - Norse."
Destinations