Sierra de Grazalema Natural Park - Walks
Grazalema is one of the most popular places in Andalucia for walkers. It has over 30 signposted routes, but many walks in the park have restricted access to protect nesting birds and prevent fires in summer. Contact the park office in El Bosque or in Grazalema for more information.
Sendero Río El Bosque A linear 4.2km walk along the attractive, wooded Majaceite river, lined with poplars, elms and willows, as well as watermills. You can start/finish at either village along this route, El Bosque or Benamahoma, where you can continue the watery theme and visit the Ecomuseo del Agua on watermills, irrigation and other water-related topics in the Sierra.
Sendero Calzada Romana is a 3km linear easy walk along the Roman road between Benaocaz and Ubrique. The starting point is in Benaocaz at the main entrance to the village from the A374.
Sendero El Pinsapar is a 10km walk starting from the CA531 road leading from Grazalema to Zahara. About 1km from the A372/CA531 crossroads is a picnic area with a car park, where the sendero begins. You need to make sure you get permission first for this walk, from the park office in El Bosque or one of the visitors' centres.
The first part of the walk is a steep ascent up the Sierra de las Cumbres, where there are some great views over the Serranía de Ronda to make up for the challenging climb. The path then takes you up to the densely wooded Spanish fir forest.
Sendero Salto de Cabrero is a 7km walk to the Goatsherd's Leap, a series of spectacular 80m-high rocky crags. The path begins just outside Grazalema, on the A372 towards El Bosque, at the Puerto del Boyar viewpoint (mirador).
Sendero de la Garganta Verde is a 2.3km walk that takes around four hours. It has restricted access so you have to obtain permission first from the park office in El Bosque or any other park information centre. The path begins 3km south of Zahara at a car park. You pass a cliff face where griffon vultures nest and into the gorge with its towering vertical sides of up to 400m.
Private holiday home to rent
Guided tours in the park
Guided tours from Ronda or Grazalema
Walking guide books by Guy Hunter Watts
Buy walking guide books by Guy Hunter Watts
"Walking in Andalucia" by Guy Hunter Watts
Walking in Andalucía is a 260 page full colour guide to some of the very best walks in southern Spain, taking the walker on 34 routes - all starting and most finishing in beautiful villages - in the Natural Parks of Grazalema, La Alpujarra, Cazorla, Los Alcornocales, Aracena, and La Axarquia. Many of the full and half day walks are virtually unknown even though they are a short drive from the Costa del Sol. Even though more and more people are beginning to walk Spain's southern sierras, most of the routes remain blissfully undiscovered. Guy says, 'If you decide to head for the hills with my guide you can be sure of two things: you will be walking through areas of great natural beauty and you will meet with other walkers.'  
Buy a printed or eBook copy online direct from publishers Walking in Andalucia.
"Coastal walks in Andalucia" by Guy Hunter Watts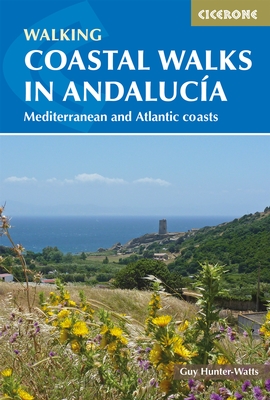 45 great coastal walks close to Andalucia's Mediterranean and Atlantic coasts. Discover the best hiking trails close to Vejer, Caños de Meca, Conil, Tarifa, Bolonia, Gibraltar, Casares, Estepona, Marbella, Istán, Mijas, Benalmádena, Alhaurín, Cómpeta, Fuengirola, Nerja, Maro and Almuñecar. Talk to most people about the coast of Andalucía and they'll picture the small swathe of seaboard that runs from Torremolinos to Estepona, the heartland of what is commonly sold as the Costa del Sol. First associations are of crowded beaches, busy coastal roads and blocks of holiday apartments. Few amongst them will conjure up visions of the mighty chain of mountains, the tail end of the Sierra Subbética, which rises up a few kilometres back from the sea. Nor do they tend to evoke the wilder beaches of the Costa de la Luz or the footpaths that run just a few metres from the Atlantic surf.
Buy a printed or eBook copy online direct from publishers Coastal Walks in Andalucia.
"The Andalucian coast to coast walk " by Guy Hunter Watts
A stunning 21 day, 435 kilometre trail that links the Mediterranean with the Atlantic. The walk passes through six of Andalucia's Natural Parks and protected areas via its most beautiful mountain villages. Far more than a long walk, this on-foot odyssey can lead you to the heart of southern Spain's magnificent sierras and on a life-changing journey of discovery. One of the best things about the simple act of walking is the sense of reconnecting with Nature and the Big Wide World. We've been moving around on two feet for a very long time yet still, in the simple act of putting one foot in front of the next and moving across landscape, it seems that we reassert our identity. Day to day worries fall into insignificance, or rather true significance, when we get out into the mountains and walking is about a lot more than taking exercise.
Buy a printed or eBook copy online direct from publishers The Andalucian Coast-to-coast Walk.
"Walking the Mountains of Ronda and Grazalema" by Guy Hunter Watts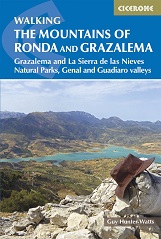 The dramatically situated town of Ronda can make a great base for a walking holiday in the mountains of Andalucía, as can any one of the picturesque 'pueblos blancos' (white villages) that nestle among the surrounding hills. This guidebook presents 32 mainly circular walks in the Ronda region, covering the town and its environs, the Natural Parks of La Sierra de Grazalema and La Sierra de las Nieves (both UNESCO biosphere reserves), and the Genal and Guadiaro Valleys. Clear route description is illustrated with mapping, and the route summary table and 'at a glance' information boxes make it easy to choose the right walk.
Buy a printed or eBook copy online direct from publishers Walking the Mountains of Ronda and Grazalema.