Pure white snow on the majestic Sierra Nevada mountain range.
Access to Sierra Nevada National Park
Access
The park has several main entry points. For the western end of the Sierra, take the A395 - Europe's highest road - from Granada city that leads to the ski station. In the park's eastern section, the A337 crosses the Sierra north to south. Further east is the AL503 in Almeria province. The Alpujarras are easily accessible via the roads running east-west linking the main towns and villages.
Apart from these roads, there is a network of minor roads and tracks that skirt the edges of the park's highest ground, which are best explored on foot; bear in mind that these may well be impassable for the winter months at least.
"Walking and Trekking in the Sierra Nevada" by Richard Hartley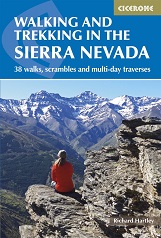 This guidebook presents 33 graded walks and 5 high mountain scrambles in the striking Sierra Nevada, the highest mountain range in mainland Spain and in western Europe outside the Alps. Easily accessible from Granada and Málaga, it is a world of soaring, snow-clad peaks and deep valleys, far removed from the crowded beaches of the Costa del Sol just two hours away. The routes are spread across the national park, with attractive towns and villages such as Trevélez, Lanjarón, Hoya de la Mora and Cumbres Verdes serving as potential bases for a walking holiday
The guide also includes advice on transport, bases and safety, a tick-list of the 3000m peaks and a Spanish-English glossary. There is the option to buy a printed book, an eBook, or both as one deal.
Buy a copy online of Walking in the Sierra Nevada
Destinations