The Sierra Nevada was designated a national park in 1998
Sierra Nevada National Park Walks
Walks
As you might expect in a place of such beauty there are many excellent signposted and waymarked senderos (walks). Make sure you have a good map. Details of senderos, maps and walking guides are available in the Sierra's tourist offices and visitors' centres (see information).
The long distance footpath, the GR7, crosses the foothills of the Sierra Nevada, linking villages of the Alpujarras east-west.
See Guy Hunter-Watts' description of the Walk of the Ruined Mills and Arab Baths, which begins and ends in Ferreirola. There are details of further walks in this area in his guide Walking in Andalucia.
The Vía Verde of the Sierra Nevada is a former railway line that has been converted into a 6km-long walking and cycling track starting 15km south of Granada city, at Güéjar-Sierra.
Sendero Siete Lagunas is an 8km challenging walk to one of the Sierra's most spectacular spots, a glacial valley at over 3,000m sandwiched between the peaks of Mulhacén and Alcazaba, with seven mountain lakes (siete lagunas). The walk starts in Trevélez. You can take a sleeping bag to spend the night here. In summer, you can also continue on to Mulhacén peak the next day.
Sendero Nacimiento del Río Andarax is a fairly easy linear walk of 6½km (13km round trip). It starts from the Nacimiento picnic area a few kilometres outside Láujar de Andarax in Almeria province and leads to the source (nacimiento) of the Andarax river, where there is another picnic area, Monterrey, with a mountain refuge.
First the path zigzags through dense pine forest by the side of the river. Some 4km later there is a crossroads; take the left-hand fork and a bit further on there are some superb views down the valley. Carry on taking the left-hand path whenever there is a fork in the track.
"Walking and Trekking in the Sierra Nevada" by Richard Hartley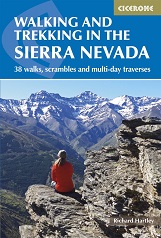 This guidebook presents 33 graded walks and 5 high mountain scrambles in the striking Sierra Nevada, the highest mountain range in mainland Spain and in western Europe outside the Alps. Easily accessible from Granada and Málaga, it is a world of soaring, snow-clad peaks and deep valleys, far removed from the crowded beaches of the Costa del Sol just two hours away. The routes are spread across the national park, with attractive towns and villages such as Trevélez, Lanjarón, Hoya de la Mora and Cumbres Verdes serving as potential bases for a walking holiday
The guide also includes advice on transport, bases and safety, a tick-list of the 3000m peaks and a Spanish-English glossary. There is the option to buy a printed book, an eBook, or both as one deal.
Buy a copy online of Walking in the Sierra Nevada
Destinations