The Sierra Nevada was designated a national park in 1998
Things to see in Sierra Nevada National Park
within the national park it is pure nature. However there ate attractions and things to see around the outside of Sierra Nevada National Park. These include Jardín Botánico de La Cortijuela, Tibetan Monastery O Sel Ling, Balneario de Lanjarón and Villages of the Alpujarras.
Jardín Botánico de La Cortijuela, near the Cerro del Trevenque in the west of the park, has around 100 plant species that can be found in the park.
Balneario de Lanjarón is a natural spa. Its waters have been renowned for their medicinal qualities since 1765.
Tibetan Monastery O Sel Ling was named by the Dalai Lama as 'the Place of the Clear Light' and, positioning yourself by the brightly coloured Buddhist stupa at the monastery's entrance that offers a magnificent view over the Alpujarras, you can appreciate why. Founded in 1982 it offers retreats to those who are willing to abide by the monastery's guidelines.
Villages of the Alpujarras in the region that lies between the Sierra Nevada and the sea. Perched on the steep sides of these sierras, with their torrential streams and rivers and wooded valleys, are many beautiful towns and villages. Bubión, Pampaneira and Capileira are an often-visited triumvirate, with tourists attracted by their magnificent position in the steep and narrow Poqueira gorge. Trevélez offers some of the best cured ham (jamón serrano) in Spain. See also our page on the Alpujarras.
The eastern villages are much less visited than those in the west, but are not as attractive. The landscape is drier and more barren. Láujar de Andarax is one of the most worthwhile villages to see in the eastern Alpujarras and has a beautiful shady spot 1km northeast of the village called El Nacimiento, which is the source of the Andarax river. Here are some waterfalls in a steep-sided valley, where several walks start. There are also a few restaurants and a picnic area with barbecue pits.
Walking and Trekking in the Sierra Nevada" by Richard Hartley
BuyWalking and Trekking in the Sierra Nevada" by Richard Hartley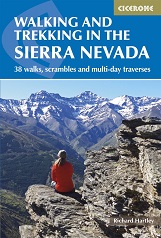 This guidebook presents 33 graded walks and 5 high mountain scrambles in the striking Sierra Nevada, the highest mountain range in mainland Spain and in western Europe outside the Alps. Easily accessible from Granada and Málaga, it is a world of soaring, snow-clad peaks and deep valleys, far removed from the crowded beaches of the Costa del Sol just two hours away. The routes are spread across the national park, with attractive towns and villages such as Trevélez, Lanjarón, Hoya de la Mora and Cumbres Verdes serving as potential bases for a walking holiday
The guide also includes advice on transport, bases and safety, a tick-list of the 3000m peaks and a Spanish-English glossary. There is the option to buy a printed book, an eBook, or both as one deal.
Buy a copy online of Walking in the Sierra Nevada
Destinations