The Sierra Nevada was designated a national park in 1998
Hotels - Sierra Nevada park
Hotel and Hostel accomodation is found in and around the villages located at edge of the park. The most popular are those along the southern boundary, in the popular Alpujarras (Granada Province) such as Capileira, Bubion, Pampaneira, Trevéles, less visited Bérchules, Yegen, Valor, Laroles and less visited in the Almeria Alpujarras
Book Hotels in Villages around the western park
Book Hotels in Villages around the eastern park
Lodges
There are some lodges and rural houses located on the edge of the Sierra Nevada National park where one can stay.
Refuges
There is also a number of mountain refugios (refuges) in the park on the mountains. Three are staffed which offer beds and showers at about 15€ to 20€ per person per night.
Refugio del Poquiera
Located above Capileira at 2.500m. Room for 87 walkers. Open all year. www.refugiopoquiera.com, Tel: 958 34 33 49. This is a popular stop-off for those hiking from Capileira or Trevelez and is just over an hour's walk from where the bus stops. This refugio is popular stop-off for the ascent of Mulhacen. 
Refugio de Postero Alto
Located above Jerez del Marquesado at 1.800m, useful for the eastern peaks of the Sierra Nevada. Room for 68 walkers. Open weekends and bank holidays winter and every day mid June to Mid September. www.refugioposteroalto.es, Tel: 616 50 60 83.
Albergue Universitario
This hostel at 2.250 in Hoya de la Mora offers individual, as well as shared rooms. There is access via a road from the Sierra Nevada Ski Station and the refugio offers parking and other facilities you'd expect to find in a basic hotel, like wifi, lounge area and a games room. 
About six more Refugios vivacs which are un-stafffed stone shelters in reasonable condition and strategically located where you can stay for free. The have about 15 bunks available.
Refugio-Vivac de la Caldera is close to the summit of Mulhacen at 3.100m on the Western Ridge and sleeps 16-20 comfortably. This is an unguarded shelter without facilities like water, however there is a spring next to the shelter. Booking is not possible and a stay here is free. There is a fireplace for those especially cold nights.
Other unstaffed refuges or bivouac are:
Refugio-Vivac de la Carihuela below peak of La Veleta at 3.200m.

Refugio-Vivac El Toril located 1 km east of the 2,000m Puerto de la Ragua pass and cross country ski station, on the A-337 country road that crosses the Sierra Nevada National Park between La Calahorra (north) to Laroles (south). 3 rooms (salon, bed, kitchen). Not to be confused with slate Refugio del Chulo on Sendero 'Collado Prados Altas nearby in very poor condition. 
 
Also Refugio-Vivac El Calvario, Refugio-Vivac Peñon de la Polarda, Refugio Vivac "El Doctor", Refugio-Vivac Piedra Negra.
Camping
Camping is not permitted within the Sierra Nevada National park.
In the Sierra Nevada ski resort, you will find plenty of accommodation all year round, ranging from basic
Hotels - Sierra Nevada Ski Resort hostels to luxury hotels. There is no shortage of hotels in the resort, accommodating the skiers the visit the resort in the winter. A popular option here is to rent out a ski apartment. There are several letting agencies located at the resort. es. There are also hostals (guesthouses) and youth hostels available in the area.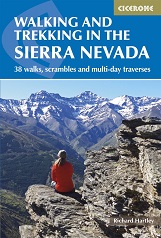 This guidebook presents 33 graded walks and 5 high mountain scrambles in the striking Sierra Nevada, the highest mountain range in mainland Spain and in western Europe outside the Alps. Easily accessible from Granada and Málaga, it is a world of soaring, snow-clad peaks and deep valleys, far removed from the crowded beaches of the Costa del Sol just two hours away. The routes are spread across the national park, with attractive towns and villages such as Trevélez, Lanjarón, Hoya de la Mora and Cumbres Verdes serving as potential bases for a walking holiday
The guide also includes advice on transport, bases and safety, a tick-list of the 3000m peaks and a Spanish-English glossary. There is the option to buy a printed book, an eBook, or both as one deal.
Buy a copy online of Walking in the Sierra Nevada
Destinations