The Sierra Nevada was designated a national park in 1998
Sierra Nevada National Park - Flora
Flora
The park's plants are outstanding, with the highest number of endemic plant species in Europe. An impressive 2,100 different species of vascular plant, a quarter of those recorded in the whole of Spain, have been registered here, over 120 of them endangered. Around 70 plant species are only found in the Sierra Nevada, mainly in the higher areas, while 175 species are native to the Iberian Peninsula.
Wildflowers that have been listed as threatened species include the daffodil narcissus nevadensis, Sierra Nevada sandwort (arenaria nevadensis) and the wormwood artemisia granatensis. The most well-known native wildflowers are the Nevada violet and the Sierra chamomile.
The main tree vegetation comprises groves of holm oak (quercus ilex, subsp. rotundifolia) principally between 1,300m and 1,700m. There is also extensive woodland of sweet chestnut (castanea sativa) and Pyrenean oak (quercus pyrenaica) and tracts of pine forest.
Lichens are often the only vegetation growing on the exposed, poor soils above 2,800m. However, sheltering from the often glacial and strong winds in winter in the stony cascajares (corries) are a surprisingly wide variety of plant species, many of them endemic. These include glacier toadflax (linaria glacialis) and the grass species festuca clementei, poa laxa and agrostis nevadensis. Clinging tenaciously to steep, rocky high slopes are flowering species such as the pink-coloured violet viola crassiuscula, the buttercup ranunculus acetosellifolius boissieri, Nevada saxifrage (saxifraga nevadensis) and alpine rock cress (arabis alpina).
Below 2,800m is vegetation more typical of the Mediterranean. There are pine trees (pinus sylvestris), savin and common junipers (juniperus sabina, j. communis), the sedge carex fusca, creeping speedwell (veronica repens), thyme (thymus serpylloides), ironwort (sideritis glacialis) and hedgehog broom (erinacea anthyllis). Native plant species here include the sandworts arenaria pungens and arenaria tetraquetra subsp.amabilis, genista versicolor, Nevada clover (trifolium nevadensis) and the Nevada cinquefoil potentilla nevadensis. In the holm oak groves is the honeysuckle lonicera etrusca.
In the lower valleys are gall oaks (quercus faginea) and the native maple acer granatense and the Montpellier maple acer monospessulanum. Commonly occuring shrubs on the lower slopes are prickly junipers (juniperus oxycedrus), flax-leaved daphne (daphne gnidium), Spanish barberry (berberis hispanica), hawthorn (crataegus monogyna), lentisc (pistacia lentiscus), wild olive trees (olea europaea sylvestris) and butcher's broom (ruscus aculeatus).
The abundant water courses are fringed by alder trees (alnus glutinosa), ash trees (fraxinus angustifolia), elms (ulmus minor), willows (salix atrocinerea) and poplars (populus alba).
"Walking and Trekking in the Sierra Nevada" by Richard Hartley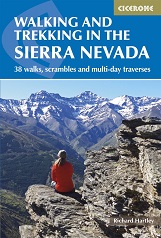 This guidebook presents 33 graded walks and 5 high mountain scrambles in the striking Sierra Nevada, the highest mountain range in mainland Spain and in western Europe outside the Alps. Easily accessible from Granada and Málaga, it is a world of soaring, snow-clad peaks and deep valleys, far removed from the crowded beaches of the Costa del Sol just two hours away. The routes are spread across the national park, with attractive towns and villages such as Trevélez, Lanjarón, Hoya de la Mora and Cumbres Verdes serving as potential bases for a walking holiday
The guide also includes advice on transport, bases and safety, a tick-list of the 3000m peaks and a Spanish-English glossary. There is the option to buy a printed book, an eBook, or both as one deal.
Buy a copy online of Walking in the Sierra Nevada
Destinations