The Sierra Nevada was designated a national park in 1998
CAMPING in Sierra Nevada National Park
There is one area of free camping (zona de acampada organizada) in the park's eastern flank, which is Monterrey, north of Láujar de Andarax. Take everything you need.
There are many organized campsites in the park and on its fringes, mainly on its southern edge in the Sierra's foothills, the Alpujarras.
Camping Balcón de Pitres, located on the Órgiva-Ugíjar road at Km 51 near Pitres, has a campsite, wooden cabins, mountain refuges and a hostel.
Camping La Molineta is situated close to Láujar de Andarax.
Camping Órgiva, on the A348, has a campsite as well as farmhouses, bungalows and a cabin for rent. Open all year.
Camping Puerta de la Alpujarra, less than 1km from Órgiva on the A348, has several swimming pools.
Camping Trevélez, 1 km out of village on the Órgiva road, boasts a claim to fame of being Spain's highest campsite. Cabins for rent and swimming pool. Open March to November.
Cortijo Balderas is 5km east of Güéjar Sierra, at Km 5 on the Padules road, and has a campsite and cabins to rent. It runs activities and camps for young people and also has a programme of short residential workshops for adults on cooking, art and relaxation techniques, among other subjects.
"Walking and Trekking in the Sierra Nevada" by Richard Hartley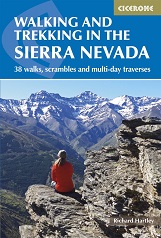 This guidebook presents 33 graded walks and 5 high mountain scrambles in the striking Sierra Nevada, the highest mountain range in mainland Spain and in western Europe outside the Alps. Easily accessible from Granada and Málaga, it is a world of soaring, snow-clad peaks and deep valleys, far removed from the crowded beaches of the Costa del Sol just two hours away. The routes are spread across the national park, with attractive towns and villages such as Trevélez, Lanjarón, Hoya de la Mora and Cumbres Verdes serving as potential bases for a walking holiday
The guide also includes advice on transport, bases and safety, a tick-list of the 3000m peaks and a Spanish-English glossary. There is the option to buy a printed book, an eBook, or both as one deal.
Buy a copy online of Walking in the Sierra Nevada
Destinations