Los Pedregales Park
by Chris Chaplow

The 'El Parque de San Isidro', better known as Los Pedregales, is located 5km inland from Estepona on the 'old road road' to Casares. This rural park is 30 hectares in size and the facilities have been improved and added to in recent years.
It used to be no more than the Ermita  built in 1989 and a open sided garage style canopy for sheltered barbeque and destination of the  San Isidro Romeria.
Today is more refined and the park features, children's play area including a short zip wire, camping, BBQ facilities, picnic tables, tap water, ample parking, Prehistoric Necropolis de Corominas, petanca grounds, café restaurant at the entrance, pigeon cote not to mention the numerious will and cultivated flowers and the swimming pool for the campers.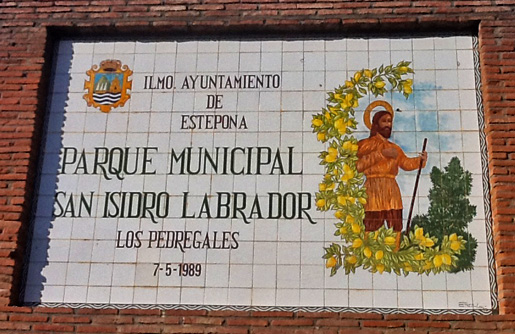 Parque Municipal San Isidro Labrador
The park is popular with locals on Sundays during the winter months but quiet at other times, and wandering round when it is deserted one wonders why certain facilities are in place yet slightly abandoned.   The answers is San Isidro  
Isidro was the farm labourer, also known as Isidro the Farmer, was a farm worker known for his piety toward the poor and animals. He is the Catholic patron saint of farmers and the patron of Madrid and Estepona amongst other towns. His saints day is 15th May and the chapel and the park is named after him, so no better place to celebrate his sainthood than this park.
Thousands of young (and not so young) would come here that weekend, set up a tent and sing, drink and dance the night and next day away. The road to Estepona  which was not tarmaced until about 2002 when the incinerator plant was built further up the road, became a dust cloud and navigating it at night with full headlights was an adventure in itself.
Nowadays is more refined and hundreds, not thousands will celebrate San Isidro during the day and wild camping is not now permitted.    
It is also possible to rent wooden cabins for up to 8 people in the park, ideal for families,  especially in the summer. There is a swimming pool.
Watch out in the spring for the "processionary"  these is a occasional procession of pine caterpillars whose slimy bodies can cause severe allergic reactions. They walk in processions, nose to tail. Park wardens put up warning signs. Be careful, especially if you have a pet dogs.
Wooden Cabins to rent

Complejo Rural los Pedregales
Wooden cabins in the park for four to eight persons to rent. Ideal for families. Swimming pool and all games and sports facilities. Complete with air conditioning and free WiFi. Each bungalow has a living area and a kitchenette equipped with fridge. The bathrooms come with a shower.
Necrópolis Prehistórica de Corominas

This museum has been established underground, inside a modern 'Dolmen and Tumulus burial mound' style construction. Inside five small dolmens (standing stones) can be seen. they are original and date to about 3,000 BC. Also on display are a number of pottery vessels, stone tools, arrowheads, axes, personal ornaments, necklace beads made of semi-precious stones and perforated seashells.  The skulls and skeletons and other bones on display are reproductions as the originals are preserved.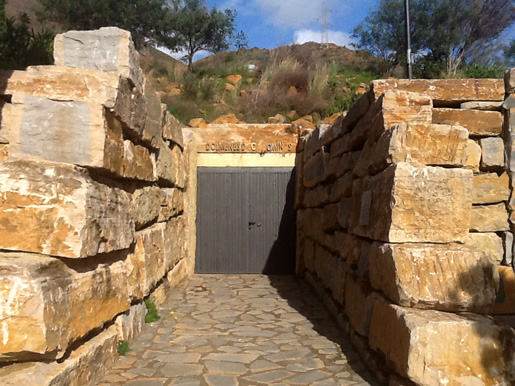 Dolmens at Los Pedregales Park - open by appointment
Most of the artifacts on display were actually found at a nearby site called Corominas, which was discovered when advanced works for the nearby toll motorway (AP-7) were undertaken in 2001. The five exceptionally well-preserved tombs and several skeletons are the best preserved necropolis ever found on the Costa del Sol. Their  current presentation is spectacular with fibre optic lighting effects and a raised walkay allowing the visitor to look down and examine the dolmen.  The main entrance to the museum inside a modern reconstruction of a dolmen is none the less spectacular. There is also a small shop where souveniers, bracelets, necklesses and books can be purchased.  The museum is ideal for children. 
Those interested in Dolmens should also visit the Antequera Dolmens of Vera and Menga.  
Visits may be arranged to Dolmen Corominas in Estepona in advance. Price is 3€ per person (minimum 5) simply by calling Tel: 654 71 17 15.  If there is no answer, Victoria, the Archeologist will call you back and is very knowledgeable, helpful and accomodating. The guided visits take about half an hour and is well worth the effort to pre arrange.    More about the Corominas dolmens >
Geo Park Adventura
Geo Park Adventura is a prehistoric theme park that was under construction at Los Pedregales. It planned to include replicas of dinosaurios on a large scale and interactive activities with an interpretation centre. It was due to open in Spring 2016.

Another two zones in the park are earmarked for development. One for adventure sports with 33 different activities such as zip wires, paint ball orientación. Summer camps for children are organized as well as sports camp that Vincente de Bosque (Spanish national coach since 2008) has lent his name to. Another was for Karting but this has been relocated to next to Estepona fire station, perhaps too noisy for this rural environment.
Directions
Leave the A-7 Coastal highway at Km 153 and follow signs for 'Casares camino which leaves the roundabout just after the Cepsa petrol station. The narrow road (Pista Colada de los Molinos ) will climb up then dip down under the motorway viaduct and wind it way through the countryside. On the right hand side at km 4 you will see the entrance to the park.   This road continues another few km to reach the MA-8300 which is the coast road (A-7) to Casares village road at Venta Garcia.