NECRÓPOLIS PREHISTÓRICA DE COROMINAS
by Chris Chaplow
This futuristic museum has been established underground, inside a modern 'Dolmen and Tumulus burial mound' style construction.
Inside five small dolmens (standing stones) can be viewed. They are original and date from about 3,000 BC. Also on display are a number of pottery vessels, stone tools, arrowheads, axes, personal ornaments, necklace beads made of semi-precious stones and perforated seashells. The skulls and skeletons and other bones on display are reproductions as the originals are preserved.
The Dolmens and most of the artifacts on display were actually found at a nearby site called Cero de Corominas (Corominas Hill), and were discovered when advanced works for the Costa del Sol toll motorway (AP-7) was undertaken in 2001.
The five exceptionally well-preserved tombs abut 3m long and one metre wide and high and several skeletons are the best preserved necropolis ever found on the Costa del Sol.
Their current presentation is spectacular with fiber optic lighting effects and a raised walkways allowing the visitor to look down into the dolmens.
The original covering slabs of stone are now laid to one side to offer a view into the graves which date to from the end of the Neolithic period. It is know that the burials in the dolmens were ritual re-burials since only skulls and major bones were found. Compartment in the sides of the dolmens indicate a later use in the Copper age (early part of Bronze age) period.
The main entrance to the museum inside a modern reconstruction of a dolmen is none the less spectacular. There is also a small shop where souvenirs, bracelets, necklaces and books can be purchased.
Those interested in Dolmens should also visit the Antequera Dolmens of Vera and Menga.
Those interested in local history should also visit the Estepona Archeological Museum in the town centre.
The Corominas is ideal for children. It was opened in 2007.
Andalucia.com celebrated its 20th Anniversary here on 17th April 2016.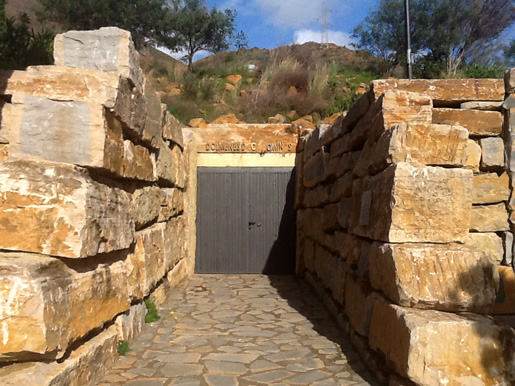 Dolmens at Los Pedregales Park
Visits
In 2017 the corominas opened at prescribed time for guided visits in English and Spanish. Since the Covid corominas has returned to pre-arranged visits between 11.30 and 18.00.
Admission
General 4 € per person with guided tour
General 4 € per person without guide.

The guided visits take about half an hour.
Contact
Tel: 675 942 975 or  626 912 311.
email: [email protected]
Wooden Cabins to rent in Los Pedregales
Holiday cabins in Los Pedregales
Directions
Leave the A7 Coastal highway at Km 153 and follow signs for Casares. The narrow road (Pista Colada de los Molinos) will dip down under the motorway viaduct and wind it way through the countryside. On the right hand side at km 4 you will see the entrance to the park. This road from Estepona continues another few km to reach Venta Garcia on the MA-8300 which is the Coast (A-7) to Casares village road.
Destinations