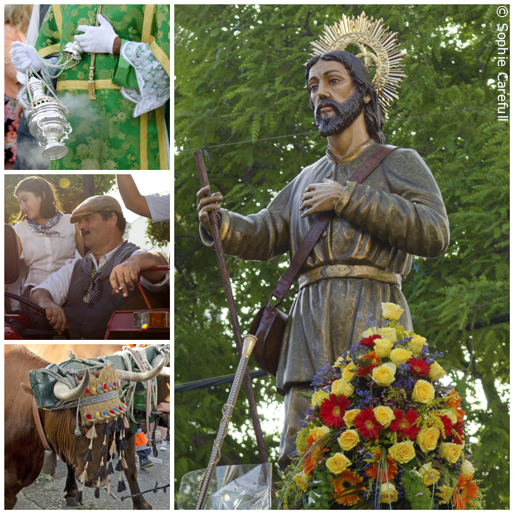 The San Isidro procession is led by agricultural floats and ends with the saint himself.
Feria de San Isidro Labrador
Andalucia is extremely proud of its history and traditions and this is easily seen with various festivities happening throughout the calendar year. On the 15th May Estepona celebrates the day of its patron saint, San Isidro Labrador (the Farmer), with a procession starting at San José church in the old town and making its way around the centre before returning back to the church. As the festival honours Estepona's agricultural heritage, the procession is made up of farm vehicles dressed up in foliage, flowers and produce. There is a prize for the best decorated float and everyone makes a great effort, there are even some tractors with 'San Isidro' written in dough on a giant loaf of bread on the front of their trailers!
The procession usually takes about two and a half hours, starting at 6pm, but the fun doesn't end there, families and friends alike head up to the fair ground where there are rides set up for the weekend. There are also folk music performances, produce competitions, horse shows and even axe skills contests! Traditional tomato soup made with bread, peas, spring onions and peppers (sopa campera) is typical of the San Isidro fair.
Look out for the mural in Estepona dedicated to San Isidro Labrador. 
Estepona also has another patron saint, La Virgen del Carmen, whose special day is celebrated on the 16th July. As she symbolises the town's prosperous fishing past, the statue is taken out to sea on elaborately decorated boats.
Below is a video of the Festival on our own YouTube Channel.