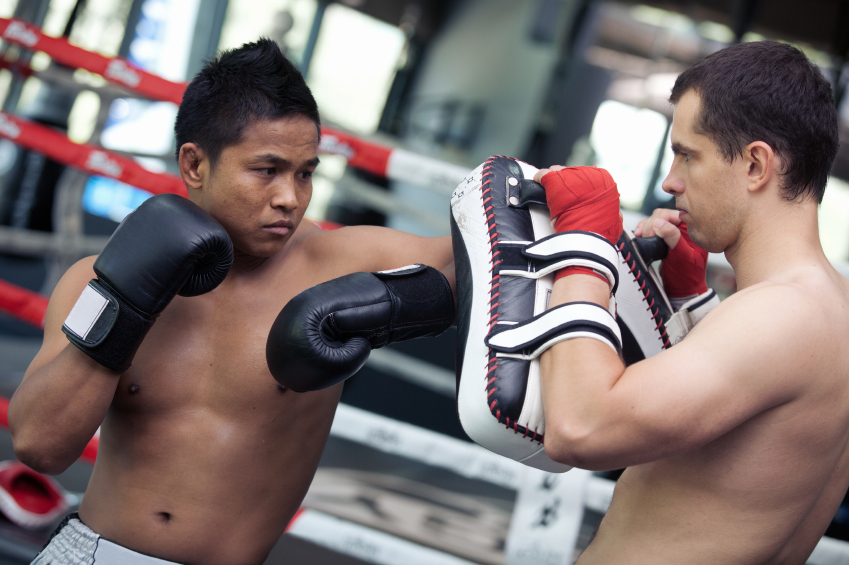 Gyms in Fuengirola
STUDIO 1
Complejo Las Rampas (opposite the entrance to Dunne's Store) 29640 Fuengirola
Tel: +(34) 952 475 206
This was one of the first gyms to open on the Costa del Sol in the early 1980's. It has only changed hands once in all that time. It is one of the friendliest clubs in the area and conveniently situated right in the centre of Fuengirola, next to underground parking. The gym is professionally run by a husband and wife team (he is English and she is Spanish). The place has undergone extensive refurbishment and expansion, with considerable investment in state-of-the-art facilities, including Jacuzzi, saunas, new changing rooms, and added exercise rooms. A superb three tiered room dedicated to indoor bike (Spinning) classes has been constructed and there is also now a new, large and airy Pilates/Yoga/Thai Chi room. The Pilates classes by fully qualified Stott Pilates expert, Sara Osorio. There is a 'Transformer' Pilates machine for one-to-one training. Other classes are; Kick Boxing, Ju-Jitsu and Hip Hop, aerobic, step, etc. There is such a wide range of classes (timetabled from 8:15 a.m. to 9:30 p.m.) that it would be best to contact the gym direct for details.
Prices
Monthly Membership 42€
One-off Joining Fee 20€
Also: weekly, daily rates, etc. (Contact gym direct for details)
Opening Hours
Weekdays: 08:00 - 23:00
Saturdays: 08:00 - 16:00
CLOSED Sundays & Public holidays
ALPHA FITNESS CENTRE
Edificio Diana IV, Ground Floor (backing onto the Fuengirola Fair Ground)
Plaza de la Hispanidad, Fuengirola.
Tel: (+34) 952665 236
This is one of the newest sports clubs in this area and is very popular with Spanish and foreigners alike. The gym is bright and clean and well equipped with cardiovascular machines, as well as a good free weights area. There is one open plan aerobic room where the classes on offer include, power dumbbell, step, body conditioning, circuit training and spinning. Although the classes are all given in Spanish, at least one of the instructors is English, if you need help. There is a sauna, steam bath and Jacuzzi room which is open alternate days for male and female members. There is also UVA sun treatment available and a beauty room. There is no air conditioning and the summer months can be pretty stifling, especially in the aerobics room, where the windows are sealed shut, due to noise levels annoying the neighbours!
Prices
Monthly Membership VIP 45 EUR
Monthly Membership VIP + Pilates 50 EUR
Monthly Membership (Aerobics only) 40 EUR
Opening Hours
Weekdays 09:00 - 23:00
Saturdays 10:00 - 14:00
SUNDAYS & PUBLIC HOLIDAYS CLOSED
STELLA MARIS FITNESS CENTRE
Paseo Marítimo, 54 (on the sea front, next to Stella Maris Hotel), Fuengirola
Tel: (+34) 952 477247 (Ext. 1604)
This gym opened in 2003 and has good, modern cardiovascular machines and a free weights area, as well as a good selection of classes on offer. The club has a good mix of Spanish, British and Scandinavian members and staff and instructors usually understand and speak some English. Classes include aerobics, spinning, step and pilates (without machines). There is sauna, steam baths and Jacuzzi, as well as UVA sun treatment. The nice thing about this gym is the proximity to the beach, although the windows don't look out onto the sea.
Prices
Monthly Membership 50 EUR
One off Joining Fee 20 EUR
Monthly fee (without joining fee) 60 EUR
Opening Hours
Weekdays: 10:00 - 23:00
Saturdays: 10:00 - 14:00
SUNDAYS & PUBLIC HOLIDAYS CLOSED
STAR GYM
Avenida Clemente Diaz 57 (opposite Barclays Bank roundabout),
29640 Fuengirola
Tel: (+34) 952 464 338
This is a very small gym on the left hand side of the road going out of Fuengirola, in the direction of the village of Mijas. This gym has been going for many years and has a mainly Spanish clientele, with just a few British members. It has been recently refurbished and is clean and quite friendly, but with limited space and equipment. It has the usual cardiovascular machines and some free weights, but little space for stretching. There is one aerobics room and a restricted timetable of classes, including aerobics, step, body conditioning, etc. There are other activities, such as yoga - but these are sporadic and sometimes called off at the last minute.
Prices
Monthly Membership 45 EUR
Opening Hours
Weekdays: 08:30 - 22:00
Saturdays:10:00 - 14:00
SUNDAYS & PUBLIC HOLIDAYS CLOSED
CORPOSANO FITNESS CAFÉ
Avenida Acapulco No. 14 (off the Malaga-Marbella Motorway, Los Boliches exit)
Los Boliches
Tel: (+34) 952 666 894
This is a small gym, which specialises in classes, rather than weights and machines. Activities on offer range from aerobics, body pump and step, to yoga pilates and dance. Some of the staff and instructors are Spanish and some are other nationalities, most of them being able to speak in English if necessary. At Corposano (healthy body) you can also have a healthy fruit juice before or after your classes. This is a very friendly little club, but the changing room facilities are small and fairly limited. They have some classes especially for the more 'mature' health and fitness enthusiasts too!
Prices
Matriculation Fee 5 EUR
Deposit for Membership Card 10 EUR
Monthly Membership 38 EUR
Opening Hours
Weekdays: 09:30 - 22:00
Saturdays: 09:30 - 13:00
SUNDAYS & PUBLIC HOLIDAYS CLOSED
NUEVO ESTILO
Edificio Vega 1, Avenida Jesús Santos Rein, 29640 Fuengirola
(2 minutes walk from Fuengirola Train Station towards Los Boliches)
Tel: +(34) 952 470 044
Although this is a Spanish run gym, some to the instructors are English. The gym itself is more geared towards weight training than cardiovascular, although there are machines for both. There is one aerobic room off the gym and there is a good range of classes on offer, including aerobics, gym-jazz, step, Taikwondo, etc. The owner of this gym is a medical doctor and body builder from Venezuela and he speaks very good English. The gym is in a basement and therefore has no natural light and the changing rooms are fairly small, but there is an overall friendly atmosphere and the classes are professional and motivating. There are also sauna and UVA sun treatment facilities available.
Prices
Monthly Membership (step + aerobic) 36 EUR
Monthly Membership (gym only) 27 EUR
One off Joining Fee 10 EUR
Opening Hours
Weekdays: 08:30 - 23:00
Saturdays: 09:30 - 13:30
Sundays: 10:00 - 12:00
PUBLIC HOLIDAYS CLOSED
Destinations