Wednesday, October 26, 2011
Quotes from the players
MARTIN KAYMER:
"It's very nice to be back in Valderrama for the Andalucía Masters. I've got a lot of good memories here, although my best finish was 5th or 6th; but coming here was always a highlight, specially knowing that the Ryder Cup was here with Seve as the Captain. There's a lot of history in this place and also it's one of my favourite courses in the world, so there are plenty of reasons for me to want to come.
I like this course because it's very difficult, every hole is different and it never gets boring on the golf course. When you stand on the tee box you really have to commit to your shot, there's no bail out, no side which is safe; there's trees left and right so you really need to be precise and you have to trust your swing.
And it's not only a putting competition, you need to strike the ball very well. You can only make birdies if you hit a lot of fairways. The greens are very small, so if you're in the rough it makes it very tough leave the ball close. I like the challenge. It's one of the most difficult courses that we play all year and I really enjoy that.
I don't think the winning score is going to be in double digits this week; I figure if you shoot every round one or two under par, you have a fairly good chance to win the Andalucía Masters."
JUSTIN ROSE:
"I have lots of happy memories of 2007. Winning the Order of Merit was my biggest achievement and winning the Volvo Masters, a tournament I always wanted to win, was a great feeling, and it was fantastic to do it on a course like Valderrama.
I look forward to doing well at the Andalucía Masters - when you beat a good field on a great golf course, it's always very special.
This week will be a matter of playing sensible golf. My mindset will be about getting the ball in play. I enjoy playing on tough golf courses, it brings in the mental challenge and all parts of your game. The winner this week will be someone who feels comfortable with all parts of his game.
My three wins on the PGA Tour have been great, they have given me the feeling of playing at a very high level. I'm particularly happy with the way I handled pressure and coping with the big crowds.
Success in golf is a very fine line, you must stay humble and work hard. I always believed I had talent, but I knew I had to work hard to win through.
This season I have improved in a lot of categories, and I feel that I have become a better player.
I met Sergio yesterday and I told him to take it easy...".
GRAEME MCDOWELL:
"The golf course is in great shape as always. It's taken a lot of rain but this course takes the rain very well. The greens are soft and fast, which makes which makes wedge and short iron play quite difficult, specially the back pin positions. The course will play as tough as ever; we always say early in the week that level par never finishes outside of the top ten at this tournament. I'm looking forward to a great defence of the Andalucía Masters title.
I've always loved Valderrama, it's one of my favourite courses on the European Tour schedule. It's got some great memories for me like albatross on 17, and I've always known that I could win on this course and it was great to realize that ambition last year.
The biggest difference between me now and me 12 months ago is probably confidence. I'm here this week needing to do well whereas last year I was on cruise control, I was having a great year.
The biggest change in my game has come on and around the greens I haven't been putting statistically anywhere close to last year. My mechanics haven't changed that much, it just comes from wanting it too much and trying too hard... I've been putting too much pressure on myself and just not getting the job done.
There's more pressure on me right now coming from within. I've been working very hard and I feel my game really coming round. I'm looking forward to a strong finish of the season and putting a bit of shine on what's been a frustrating year for me."
SERGIO GARCIA:
"I think this year has been a very positive year, there's a lot of good things that I've been able to do and that have happened to me. It's also been a tough year because I've had to play a lot of tournaments over a short period. Fortunately now I can start scheduling a bit easier and hopefully keep playing at the level I want to be.
I don't feel more pressure playing at Valderrama, I think you always feel pressure in golf. Playing in Spain is very special for all Spanish players and I'm not different. Valderrama is one of my favourite places to play. I've always enjoyed it here, I've always felt quite comfortable, so I'm looking forward to perform well at the Andalucía Masters and finish the year strongly.
The more comfortable you feel on and off the golf course the better you perform, and that relates not only to your short game but to the long game too.
Last week we saw the combination of the two, of good ball striking and good putting. We don't get to see it that often because when you hit a lot of greens you have a lot of longer putts for birdies and usually you don't make a lot of those. Fortunately for me I made a few last week.
Right now I'm enjoying everything I do outside the game of golf, and that helps me enjoy my golf when I get out on to the course."
ALVARO QUIROS :
"I'm fully recovered from my injury, so my back is no excuse to play bad. Long hitters have no advantage on this golf course. It's really difficult to hit the par fives, sometimes it's not even worth it to go for a very tight green with a long iron or a 5 wood, so most of the time I lay up like everybody else. Instead of laying up with a 4 iron I use a 7 but most of us are playing from the same places.
With these green conditions it's even a bad thing to be a long hitter because a shorter club creates more spin, so it´s harder to control the ball on the greens.
The golf course is built like that: small greens, wet and uphill. You need to take out spin in order to hold the ball on the greens.
The scores will depend on the weather conditions. If it doesn't rain too much tonight and tomorrow I think we will have the course in better shape than now. It will be more difficult to hit fairways but easier to control the spin on the greens. But the winning score will probably be a sigle digit.
For me Valderrama is one of the most difficult courses on tour because the course design equals everybody. We all hit our second shot from the same position. I will take my driver but will use it only on a couple of holes.
I've changed the wedges in my bag. I've put in 60 56 and 52 degrees and I think it's going to be a great help around the greens but I still don't know my distances very well. I took out the 2 iron. It was very useful for hitting low balls on windy days, but the 3 iron will also do the job.
As for the condition of the course I don't think you can find a better course anywhere in the world. For me, the only one with the same level or a little bit better is Augusta, but you have to consider that Augusta is closed 3 or 4 months per year, which never happens here. I'm proud of this course, as I said it doesn't suit my game, but I practice here to try to become a better, more accurate player.
With all my club and swing changes I'll be happy if I make the cut this week. All in all I'm pleased with my ball striking, but being realistic I'm sorry to admit that I'm not prepared to win the Andalucia Masters right now. but hopefully that will change in the future."
La Junta de Andalucía is official sponsor of the Andalucía Masters. For more information contact: Mª Acacia López-Bachiller on [email protected]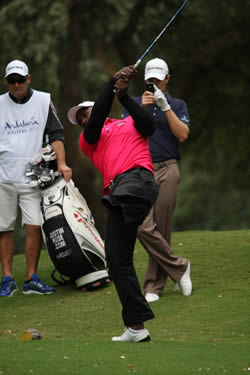 Justin Rose Recording Manuel de los Santos
Álvaro Quirós, the first world-ranked Spaniard, has confirmed his appearance in the second edition of the Andalucía Masters, from October 27-30 at Club de Golf Valderrama.
Sergio García returns to Valderrama, the stage of his three near-wins
Friday, October 14, 2011
Sergio García will return to Valderrama, the prestigious setting of the Andalucía Masters from October 27-30, on a course he admittedly "loves", which has seen him on the verge of winning three consecutive editions of the Volvo Masters.
García looks forward to playing at Valderrama, where he has always felt "very comfortable" and has enjoyed the support of the gallery. "I love that course because you need to hit all the clubs in the bag, which is not so usual nowadays. You must keep patient when things go wrong and try to minimize mistakes. Winning at Valderrama is a bonus. I shall try my very best at the Andalucía Masters, as I do every time I tee it up. My passion for golf is as strong as ever, as is my desire to win"
This season, García has posted three top 10 including a very solid 9th at the Open Championship and a runner-up spot in Munich, after birdieing the last to force his friend Pablo Larrazábal to a spectacular five-hole playoff in which both Spaniards played at great level.
On the PGA Tour, his eight top 20 finishes, including 7th at the US Open, have seen him climb steadily up the World rankings... but the best part is that his smile is back and he is enjoying his golf again.
Quirós could not miss the Valderrama event, a course he knows inch by inch, located a few minutes away from his home. Long-hitting Quirós, who has never performed well in front of his home crowd on this prestigious layout, feels that he has "something to prove". "My statistics are terrible, I only made one cut in 2008, but I'm determined to change things. I look forward to playing at home, with the support of my family and friends, and hopefully this time I will give them reasons to cheer".
In the five years since he turned pro, the Spaniard has claimed one victory per year, the last at the 2011 Omega Dubai Desert Classic, where he carded a hole-in-one that won the European Tour Shot of Month for February.
Álvaro enjoyed a good start to the season - he finished 8th at the Volvo Golf Champions in Bahrain, 2nd in Qatar, he led the first day at Augusta and was 5th at the Volvo World Match Play. This summer, knee and wrist injuries have kept him away from competition for seven weeks. He made his comeback at St Andrews a fortnight ago.
Quirós is currently ranked world 42, having lost 10 places due to his wrist problems, but he aims to move into the world's top 30 before the end of the season. A good result at the Andalucía Masters which has a 3 million euro purse, could move him up in the rankings.
Graeme McDowell looking to defend Andalucía Masters title
• From October 27-30 at Club de Golf Valderrama.
• McDowell: "Valderrama is an iconic course, one of the best on the planet. It's great to have my name in the list of winners on this course".
Tuesday, October 11, 2001
2010 US Open Champion Graeme McDowell has confirmed his title defense of the Andalucía Masters, from October 27 to 30 at the prestigious Valderrama course. McDowell said, "Valderrama is an iconic course, one of the best on the planet. It's great to have my name in the list of winners on this course".
Last year's edition saw McDowell win by two strokes from Gareth Maybin, Damien McGrane and Søren Kjeldsen. With this victory, the Ulsterman entered the world Top ten at the end of an outstanding season. Earlier in the year, he captured his first Major, the US Open Championship at Pebble Beach, shortly after his success at the Wales Open, at the same venue where he would become a Ryder Cup hero by securing the winning point for Europe.
He capped off the year in style at the Chevron World Challenge by holing a 20-foot birdie putt to force a play-off, and then proceeded to beat Tiger Woods at his own tournament. As McDowell's putt fell, Steve Williams (Tiger's caddie at the time) had to reach out for his bib which he had taken off thinking they had a sure win.
With eight titles to his name, including a Major, and two Ryder Cup appearances, McDowell will be looking for his first win this year at Valderrama. His 2011 record includes three top-ten finishes in the US and four in Europe, the last of which at the Alfred Dunhill Links Championship two weeks ago.
The Andalucian golfer, QuirÓs targeting second Portugal Masters victory
Álvaro Quirós will return to the Oceânico Victoria Golf Course for the Portugal Masters next month aiming to be the first player to win the title twice.
The big-hitting Spaniard claimed his second European Tour victory at the stunning Algarve venue in 2008, winning by three shots from Scotland's Paul Lawrie in his second season following graduation from the European Challenge Tour.
It was an emotional triumph as Quirós dedicated it to his countryman Seve Ballesteros, who was at the time in hospital undergoing surgery on a brain tumour, a condition from which he died in May this year.
In his two appearances since his victory, Quirós has finished tied 16th (2009) and 57th (2010), and this year he has set his sights on making history by being a multiple winner of the event.
"I have great memories of my victory in the Portugal Masters three years ago and I'm looking forward to going back to the Oceanico Victoria Golf Course this year," said the 28 year old, who is currently 13th in The Race to Dubai. "It is a beautiful venue, the weather is usually good, the people are very friendly and the Algarve is a great destination.
"I've had a very good season so far and it would be great to win my second title of 2011 there, following my victory in the Omega Dubai Desert Classic. That's certainly what I'll be aiming to do. No player has won the tournament twice so it would be an honour to be the first one to do that."
Quirós will be part of a strong Spanish contingent which also features Rafa Cabrera-Bello, Gonzalo Fernández-Castaño, Pablo Larrazábal and Pablo Martín, who arguably should have won the title last year.
Martín led by four shots in the final round, but three bogeys and a double bogey in his final seven holes put paid to his chances, and he had to settle for a share of sixth place, three shots behind the eventual champion Richard Green.
The Spaniards will have to contend with one of the strongest fields in the event's history, boasting former World Number One Martin Kaymer, Englishman Ross Fisher and the Italian brothers Edoardo and Francesco Molinari, the latter of whom has twice finished runner-up at the Oceânico Victoria Golf Course.
Frederico Costa, Vice President of Turismo de Portugal, the Host Sponsor of the Portugal Masters, said: "We are delighted to welcome so many players from our close neighbours Spain to the event. Alvaro was a great champion in 2008, and we look forward to welcoming him back again.
"The strength of the field for the 2011 edition gives us great pride and it promises to be a fantastic week for all the players, spectators and everyone involved with the event.
"As always, we are proud to showcase the wonderful features which make the Algarve and the Oceânico Victoria Golf Course such a fabulous destination."
BjÖrn looking for his fourth win this season at the Andalucía Masters
Denmark's Thomas Björn will aim for his fourth title of the year and twentieth of his career at the Andalucía Masters. The event will be held at Club de Golf Valderrama from October 27-30. Björn, who has won twice in Spain, has "unforgettable memories" of the course.
Last February, twelve days before turning 40, Björn claimed the Commercialbank Qatar Masters presented by Dolphin Energy, his first win this season. Six months later, and having finished fourth in The Open, Björn captured the Johnnie Walker Championship at Gleneagles after a marathon five-man playoff against George Coetzee, Mark Foster, Pablo Larrazábal and Bernd Wiesberger. The Dane birdied the fifth extra hole for his second European Tour victory in 2011.
Seven days later came the third at the Omega European Masters in Crans-sur-Sierre, with a spectacular nine under par 62 on Sunday, thus matching the lowest round of his European Tour career, to turn a three stroke deficit into a four shot win over Martin Kaymer. He also trailed by three going into the final round at Gleneagles.
Thomas admits to be playing "the best golf" of his career. "It's been an amazing two weeks. My wedges were the key - I started hitting them so well and kept it going".
Björn turned pro in 1993. In 1995 he won four tournaments on the Challenge Tour. One year later he made his breakthrough in his rookie season by claiming the first of his thirteen European Tour titles, the Loch Lomond World Invitational. In 1998 he added two more, the Heineken Classic in Australia and the Peugeot Open de España at the former El Prat course in Barcelona. The year after, he prevailed again in Spain by winning the Sarazen World Open at PGA de Catalunya in Girona. He also adds to his titles two editions of the Dunlop Phoenix in Japan.
Björn has had the honour of being the first Dane to play the Ryder Cup. He made the 1997 and 2002 winning teams. A natural leader, he is the Chairman of The European Tour's Tournament Committee since 2007 and has been Ryder Cup vice-captain both to Bernhard Langer at Oakland Hills and to Colin Montgomerie at Celtic Manor.
Valderrama holds "unforgettable memories" for Thomas Björn. He made his debut in the '97 Ryder Cup under Seve's captaincy. On Saturday, paired with Ian Woosnam in the four-ball, they beat Justin Leonard and Brad Faxon 2 & 1. In Sunday's singles he faced again Justin Leonard, the most in-form US player, and secured a half point for Europe in a memorable match.
Björn, a keen follower of Liverpool FC, has also played several Volvo Masters in Valderrama and two editions of the WGC-American Express Championship. His best result to date is fifth at last year's inaugural Andalucía Masters
The Autonomous Government of Andalusia is the owner of the tournament rights and the main sponsor of the Andalucía Masters, whose organization has been entrusted to Octagon, despite a certain
controversy
over the lack of transparency of this selection.
KAYMER CONFIRMED FOR ANDALUCIA MASTERS
World number four will tee up at Valderrama, one of his favourite courses, from October 27-30.
Thursday August 25th 2011
Germany's Martin Kaymer has confirmed his appearance in the Andalucía Masters, a European Tour event that will be held at Club de Golf Valderrama, which he describes as "one of his favourite courses".
Born in Düsseldorf 26 years ago, Kaymer is one of the big names in world golf. Since turning pro in 2005, his career has been nothing short of meteoric. In 2006 he won twice on the Challenge Tour and ended up finishing fourth in the Order of Merit, despite having played only eight events. His success on the Challenge Tour earned him a European Tour card. In 2007 he was awarded Rookie of the Year.
His first two European Tour titles, the Abu Dhabi Golf Championship and the BMW International Open came in 2008, followed by the Open de France Alstom and the Barclays Scottish Open the year after. In 2010 he won three European Tour titles: the Abu Dhabi Golf Championship, the KLM Open and the Alfred Dunhill Links Championship and captured his first mayor, the PGA Championship, defeating Bubba Watson in a three-hole playoff.
Martin was a member of the winning European Ryder Cup team at Celtic Manor - "it was very exciting and I learned a lot" - and ended the season winning the 2010 Race to Dubai, which made him only the second German top the European money list after Bernhard Langer.
Last January, he claimed his third Abu Dhabi title in four years and got to keep the trophy forever. The following month he became the number one golfer in the world and stayed at the top for several weeks. Kaymer enjoys playing in Spain where he treats himself to ibérico ham and the odd "clara" and has many friends amongst the Spanish players.
Martin Kaymer said: "I look forward to playing again at Valderrama, which for me is one of the most beautiful courses in the world and certainly one of my favourites. I played well the last few seasons but I'm always working on my game because no matter what level you get to with golf, you never reach perfection. Mi PGA win was a big boost to my confidence, it helped me believe in myself and proved that I was taking the right steps in my career." Following Bernhard Langer's example, Kaymer is intent on making golf popular in Germany, as Boris Becker and Steffi Graf did with tennis - "I know it will take time, but hopefully this dream will come true".
Andalucia Golf News Archive