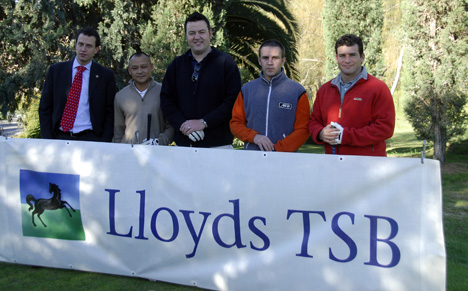 Team 1: Juan Jesus Nuñez (LLoydsTSB), Juan Tassara, Christopher Neil Delphin, Adam Winter, Jorge Taillefer..
BRITISH CHAMBER OF COMMERCE IN SPAIN
Andalucia Spring Centenary Golf Tournamen
On Friday 7th March 2008, the British Chamber of Commerce in Spain held their Centenary Golf Tournament in Andalucía..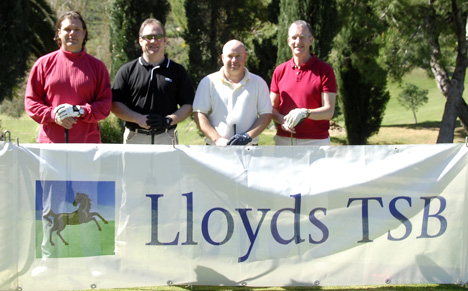 Team 2: Gordon Neilson, Derek King, Alan Richardson, Campbell D Ferguson..
This unique event attracted over 70 players from a wide variety of local small and medium sized companies, and large corporations across all sectors such as Lloyds TSB Spain, Coutts, Irwin Mitchell, Survey Spain, Andalucia.com and KSi Costa Consulting Group.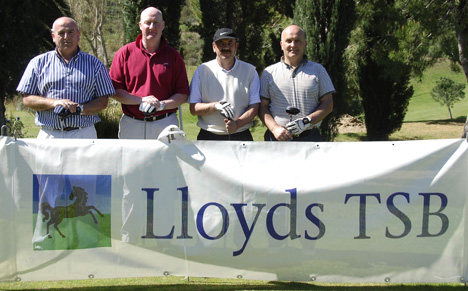 Team 3: Morgan Kelly, Andy O´Reilly, Michael Kilbride, Andre Jenkinson.
The exclusive sponsor of this event was Lloyds TSB Spain whose main representative, Valerie Broom, led the prize giving ceremony. The format was a shot-gun start with tee-off at 9:30am, which was followed by a luncheon, and the presentation of trophies and prizes. The Sovereign Group team won the first prize and returned with the trophy, four medals and 4 weekends with green-fees at La Manga club courtesy of MedGroup. Lloyds TSB were runner ups winning medals and a selection of Burberry products. Placed third were the Alanda Group team winning medals and a selection of Grey Goose products.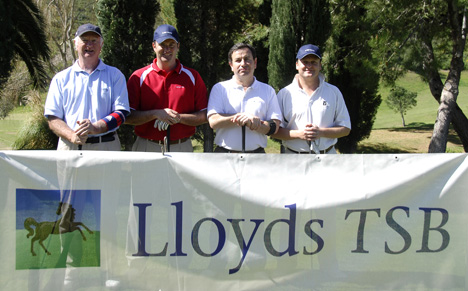 Team 4: Bob Suggett, Ronan Maguire, Javier Carretero, Michael Fortun.
Prizes also went to Andre Jenkinson, Jorge Taillefer and Helen Butterfield for nearest the pin and longest drive male and female respectively.

.
Team 5: Ignacio Fuentes, Geoffrey Bromige, Helen Butterfield, José Mª De Lorenzo.

This event gave members of the BCCS an opportunity to talk about business whilst teeing off in the beautiful surroundings of the golf course at the Marbella Golf and Country Club.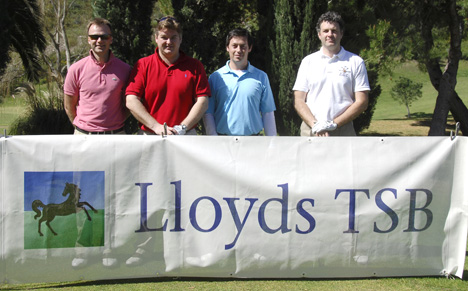 Team 6: Richard Black, John Stanbridge, Matthew Davies, Stephen Gavin.
The BCCS has been holding golf tournaments for nearly one hundred years and it is the biggest sporting event in the Chamber calendar.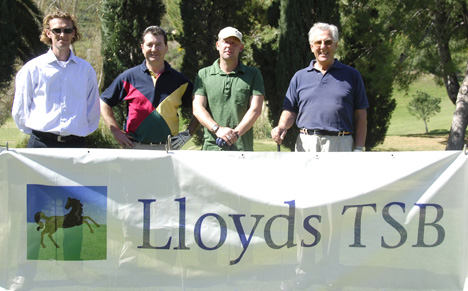 Team 7: Martijn Recourt, Michael Sherlock, Justin Manners, Tim Lowden.
This is a particularly special year for the BCCS since it is celebrating its Centenary. This historic occasion will be marked in a number of ways, including the publication of our special membership directory which features articles from Gordon Brown and the Spanish Prime Minister José Luis Rodríguez Zapatero amongst other important political figures. We will also be hosting some of the most high profile acts in our history, with flagship events in Madrid, Barcelona Andalucía and London.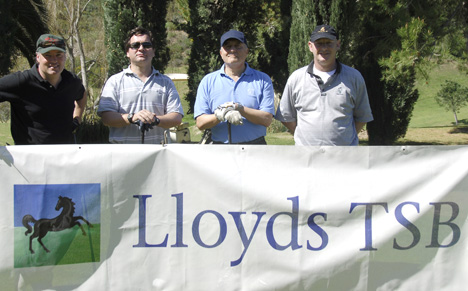 Team 8: Gary Edwards, Carlos Jiménez Dengra, Dr Roger Amar, Paul Smith.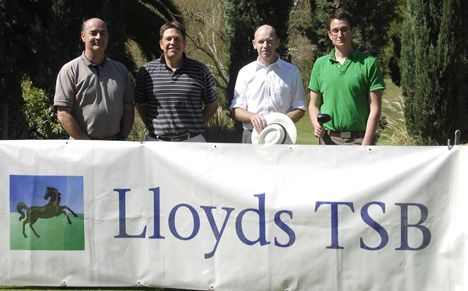 Team 9: Simon Arlett, Ashley Clinton, Nicholas Chappell, James Evans.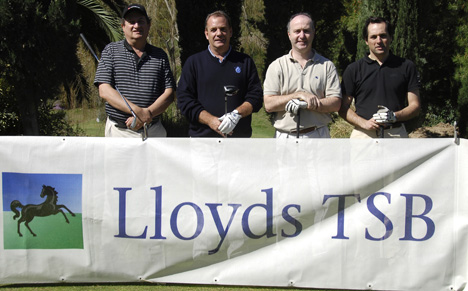 Team 10: Miguel Rodríguez Acosta, Chris McCarthy, Desmond O'Connor, Francisco Gómez.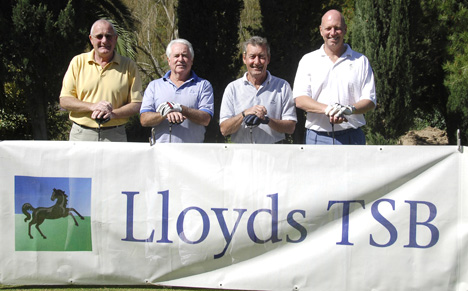 Team 11: Keith Johnson, George Lee, Alf Cranmer, Chris Warren.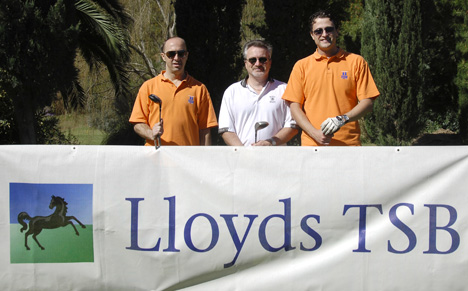 Team 12: Colin Williams, Tony Sidebottom, Matthew Lund.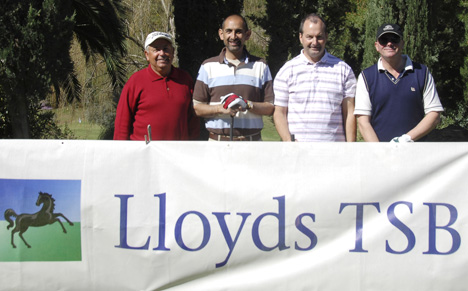 Team 13: Antonio Vera, Minoo Gazdar, Steve Day, Brian Murray.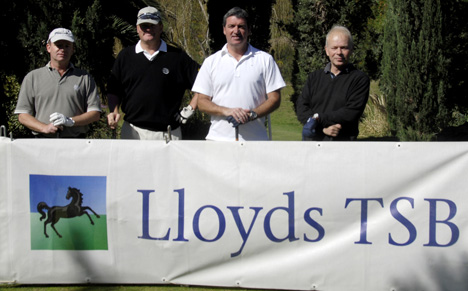 Team 14: David Morley, Jan Erikson, Paul Bristow, Michael Irgens.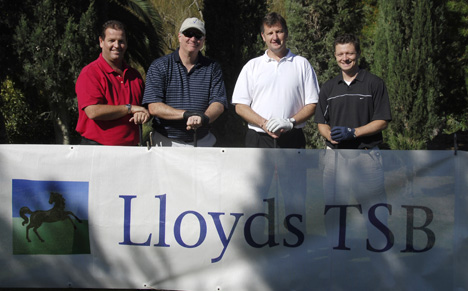 Team 15: Eugene Cuyler, Steve Cameron, Brennon Nicholas, Tim Rickson.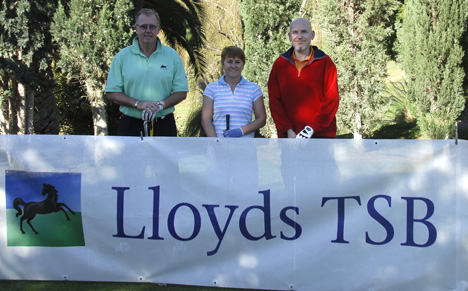 Team 16: Mike Barkess, Alison Marshall, Alan Mooney.
Photographs of the prize giving at the Marbella Golf and Country Club.

These photographs are royalty free and may be copied and reproduced by the Players, Lloyds TSB Spain, BCCS, and the Media.