COUNTRYSIDE HOLIDAY RENTALS
Andalucia has some of Europe´s most striking natural landscapes. Renting a countryside property is the best way of exploring the mountains, natural parks and rivers which divide this huge area of Spain. Countryside homes are rustic, authentically Spanish, and have uninterrupted views of the surrounding lands. Many visitors are seeking rural escapes, so the properties on this page are completely isolated, a short drive even from the nearest villages. However, they are all within a 1.5hr drive of one of Andalucia´s cities, making access easy. Of course, anyone seeking this kind of property will need to rent a car to explore the area independently, visit charming rural villages or get involved in any sporting activities. Some of the below properties are small retreats for two, but most are extensive houses appropriate for large groups and families.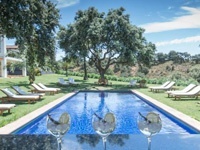 Set in the heart of Andalucia, surrounded by beautiful rolling hills. Inspired by African Lodges, this grand guesthouse resides in a 22 acre private estate. Ideal for peaceful retreats and private gatherings. Seven boutique rooms each with ensuite bathroom suitable for groups of six to fourteen guests.
Cortijo la Colá
Extensive, rustic home in traditional Spanish cortijo (farmhouse) style. Quaint period features, wooden beams and shutters. Central courtyard with outdoor seating, and sunny terrace with pool and barbeque facilities. Private drive and extensive land and parking space. 1 hour drive from Malaga airport, and 23km from historic Ronda. Sleeps up to 15.
Las Cañadillas
Authentic Spanish hillside villa. Open plan living space, with simple, tasteful furnishings. Cool tiled flooring and air conditioning throughout. Garden terrace with outdoor seating and large private pool, both with spectacular hill views. 7km from fascinating El Castillo de las Guardas and just a 50 minute drive to Seville. Sleeps 4.
Casas Rurales Balcón de Mágina
Rustic house right on the edge of the Sierra Mágina Natural Park, boasting striking mountain views. Exposed brickwork and wooden beams, and eclectic furniture. Air conditioning throughout. Access to pool and sunny terrace. Atmospheric Baeza is 32km away, and Jaen airport just over an hour´s drive. Two houses available sleeping 4 and 7 respectively.
Holiday Home Lote Chico
Quirky rural lodge near Portuguese border. Eclectic furniture and décor. Solarium with large dining table. Extensive private garden and multiple terraces with views over rolling hills. Outdoor seating, sun loungers, barbeque facilities and basketball hoops. 31km to Isla Cristina beach and a 45 minute drive from Huelva. Sleeps 4 – perfect for small family getaway.
La Palmera Cassita
Charming little forest lodge, half whitewashed stone, half wooden cabin. Ample rustic features, wooden shutters and exposed stonework. Large windows and small private terrace with vista over forest views. Quirky décor, and typically Spanish mosaic patch on exterior. Just 44km from Almeria airport. Space for 3 guests.
Seven-Bedroom Holiday Home in Posadilla
Grand, extensive rustic property in northern Andalucia. Large complex of buildings with open plan interior layout and period features; terracotta tiles, wooden shutters and rejas. Tastefully decorated with eclectic furniture. Large, terraced garden with outdoor seating, pool and views towards Sierra de Hornachuelos Natural Park, a 40 minute drive away. Full amenities including disabled bathroom and gym equipment. Historic Cordoba is within an hour´s drive. Sleeps 14 across 7 bedrooms.